Bengal: Mob lynches mentally ill woman after branding her a child trafficker
Hindustan Times, Berhampore |
Sreyasi Pal
Jun 27, 2017 07:38 PM IST
Police blamed the incident on miscreants who spread rumours about Bangladeshi child traffickers prowling the region. They have promised to act against them as well as the villagers responsible for the mob lynching.
A mentally challenged woman was lynched on suspicions of child trafficking at Sekendra village in West Bengal's Murshidabad district on Tuesday. This is the most recent in a string of mob lynchings witnessed across the country over the last few months.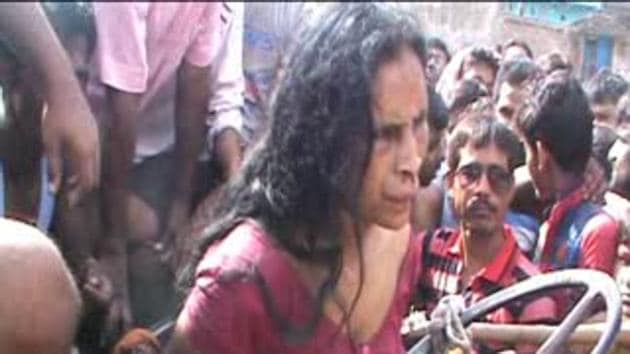 The victim, 42-year-old Otera Bibi, had been undergoing psychiatric treatment for over a year. She was a resident of Mithipur-Pananagar village, located about seven km from Sekendra.
On June 16, HT had reported about rumours of child-traffickers in nearby Jharkhand triggering panic in the state's West Midnapore, Jhargram and Purulia districts. Sekendra is located about 30 km from the Jharkhand border.
The incident occurred around 3 am on Tuesday, when a villager noticed Otera entering the house of one Dilip Ghosh with something in her hand. Word spread that the woman had come bearing chloroform to abduct Khushi, Ghosh's minor daughter. A mob rushed into the house and caught her "red-handed".
"The villagers started beating the woman mercilessly. She was trying to say something, but we couldn't understand it. In fact, her incoherent speech fuelled suspicions that she was a trafficker from Bangladesh. Some youngsters ripped off the woman's clothes and partly tonsured her. Then they tied her to a tractor and beat her for three hours," a local resident told HT on the condition of anonymity.
A small contingent of police personnel reached the spot, but the villagers did not allow them to intervene. By the time reinforcements were called and the woman rescued, it was already too late. Otera succumbed to her injuries soon afterwards.
Additional superintendent of police (Lalbagh-Murshidabad) Angshuman Saha blamed the incident on miscreants who deliberately spread rumours about Bangladeshi child traffickers prowling the region. "We will not spare the people who spread these rumours. We will also take action against the villagers who lynched Otera Bibi if her family lodges a complaint," he added.
The disappearance of children from the area has given credence to the child-trafficking rumours in Sekendra. Fourteen-year-old Fultushi Ghosh was allegedly abducted from the village on June 21, and police have failed to trace her until now. "We believe that our daughter has been abducted by Bangladeshi criminals. A complaint was lodged with the Raghunathganj police but to no avail," said Shankar Ghosh, her father.
Police have dismissed the villagers' claims that Otera was a child-trafficker.
Incidentally, Sekendra is separated from Bangladesh solely by the Padma river. Locals allege that cattle-smugglers from the neighbouring country occasionally visit the area.