Stitching up a new market
Jul 25, 2022 02:10 PM IST
With a rise in online tailoring services in India, we speak to a few players about the concept, process, growing popularity and the pandemic effect
The internet has truly revolutionised the way we live. From food to fashion, products are readily available to be shipped to our doorstep. In line with the digital boom, the online tailoring industry is also gaining momentum, for it allows one to submit measurements online or at the comfort of their home, and also have the final product delivered, sans the need to visit a boutique.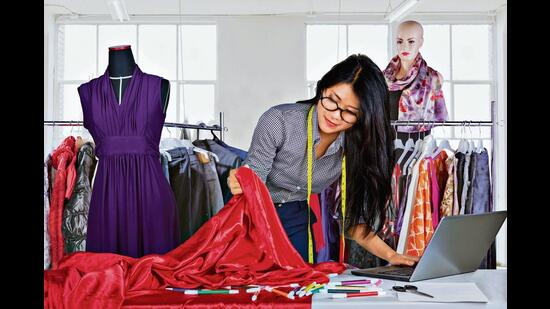 "The Indian tailoring market is estimated to be pegged at ₹27,000 crore, growing at 12% year-on-year. Traditional tailoring is an unorganised industry. With the introduction of online tailoring, players like us are trying to organise the sector with tech support, bringing convenience to customers," says Susmitha Lakkakula, founder of CloudTailor, which offers doorstep measurement, on-call designer consultation and live order tracking, among other services.
What is online tailoring?
"It is a spin to the traditional form of tailoring where the customer doesn't need to go through the hassle of visiting the tailor, and instead can access services digitally. Customers can place their orders online through their phone, laptop or tab," explains Lakkakula.
The process
Nazia Nabi, director at Darzi On Call, says on their platform, customers can book an appointment digitally with their in-house designers, or at their home, if in Delhi-NCR. "The designer understands your requirement and accordingly helps you choose design, aesthetics, fabric, prints, embroideries and styles as per your body type. Once the order is finalised, we document each requirement on our order form, a copy of which is given to the client for future reference and the other is sent to our workshop in the Capital," says Nabi, adding, "Our tailors and embroiders sit to craft each garment and once completed, the client receives it at their doorstep in the stipulated time agreed on the order form."
On the other hand, Needles and Thimbles,' business is based on an aggregator model. Its CSO, Pranav Kumar Jha, says, "We've partnered with 100+ tailors, designers and boutiques across Delhi-NCR. Depending on the customer's area, requirement and budget, we assign a partner and connect them directly to the customer. A phygital platform, we also send our tailor masters for delivery in case of sizing or other issues. We also offer express delivery wherever applicable."
The pandemic effect
The digital tailoring market, being a contactless service provider, saw a spike in sales. "The pandemic was a golden period for our business. People were avoiding visiting shops, so a safe, doorstep service came in handy. It helped our partners (tailors, designers, etc.) as well, who otherwise were out of business," says Jha.
Services and pricing
Jha's company caters to men, women and kids. However, they do not take alteration orders of less than ₹700. "For simple stitching of a kurti, we charge ₹550 and with full lining, ₹750," he says. Lakkakula's firm, on the other hand, caters to women alone, offering blouses, salwar kameez, lehenga, tops and trousers, too. "Tops starts from ₹999, kurti from ₹899 and salwar kameez at ₹999," she says. Nabi adds, "Our two-piece men's suit starts at ₹8,000 and a designer top at ₹1,200.We also undertake alterations of premium quality luxury branded products, starting at ₹500."