The art of layering skincare
Published on Dec 03, 2021 09:42 AM IST
From protecting your skin from damage to aiding regeneration – here's the experts' guide to a perfect skincare regime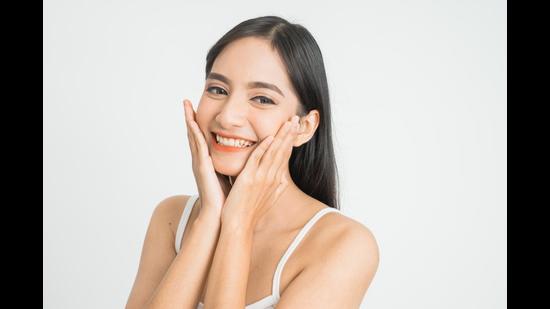 What goes first? Serum or toner? Face oil or moisturiser? Phew! Building a decent skincare collection is great, but if we're not applying them in the right order, we could be wasting our time and money.
When it comes to skincare, it is essential to go from lightest to heaviest products. "Layering skincare can be tricky, especially if you're using strong or chemical-based skincare products, as you don't know how their actives will interact with each other,and you'll never know which product is causing that acne or those whiteheads or itchy dryness in your skin," says Venu Bhanot, Head of Content and Brand Development at The Ayurveda Experience.
What is the layering of skincare products? "Layering your skincare products simply means the application of the right product to ensure that they can perform their role seamlessly," opines Plabita Sharma, National Training Manager, The Body Shop India, The Body Shop India.
"A good rule of thumb is to wait 30 seconds to a minute between layers to maximize absorption," adds Sharma.
The correct order to layer your products
Cleanser
The first step to a good skincare regime is cleansing. "Use a gentle, pH balanced formula with ingredients such as avocado oil to cleanse your skin of impurities without stripping away its natural oils," says Shikhee Agarwal, AVP, Kiehl's India.
TonerUsing a toner works as a defense against impurities that usually try to seep into the skin and damage it. A toner balances the pH levels of your skin and helps in cell regeneration after the cleansing process.
SerumThese are composed of active ingredients and penetrate into the deepest layer of the skin and help in reducing the signs of ageing, appearance of pores, and dullness. "I suggest using vitamin C serum in your morning routine with a ceramide rich moisturiser and SPF," adds Nikita Deshpande, co-founder, Ilana.
Eye creamEye creams prevent premature ageing, wrinkles, fine lines, dark circles or puffiness. As eye creams are lighter than face moisturisers, so ensure to apply them before you use creams and oils.
MoisturiserLock in all of the moisture with a light yet effective moisturiser. "Ingredients such as olive-derived squalene and glacial glycoprotein aid in keeping the skin nourished. The most important step of a daytime skincare routine, is the sunscreen," adds Agarwal.
SunscreenTo fight both UVA and UVB rays, look for broad-spectrum sunscreens with antioxidants, which protect against stressors, like airborne pollution.
Night skincare routine
In the evening, it is recommended to double cleanse. Apply toner after cleaning as it would help in keeping the skin supple and fresh. After toner, include an extra active like salicylic acid for acne and breakouts, or hyaluronic acid for extra hydration. In the night time routine it is essential to apply a strengthening serum or concentrate to help your skin recover overnight, products with botanically retrieved essential oils, such as lavender oil, for overnight skin rejuvenation. Apply a night cream and complete the process with a richer cream and allow it to be absorbed overnight.
Personalise your news feed. Follow trending topics