Malaika Arora's trainer shares tips on yoga asanas to regulate the thyroid gland
Jan 03, 2023 03:53 PM IST
From Halasana to Ustrasana, Sarvesh shared tips on the yoga asanas that should be performed to regulate the thyroid gland. Take a look.
Yoga comes with multiple health benefits. From accelerating metabolism to boosting balance and immunity of the body, yoga can help in bringing a lot of positive changes in the diet and the lifestyle. Yoga helps in regulating emotions, and bringing control to the way we behave and react to situations as well. A holistic approach to life and fitness can be achieved by taking up yoga on a daily basis. Yoga is not just for the body. It also helps in relaxing the mind and the soul, and bringing calm to our lives. It also helps in strengthening muscles, joints and alleviating risk of a lot of chronic health disorders.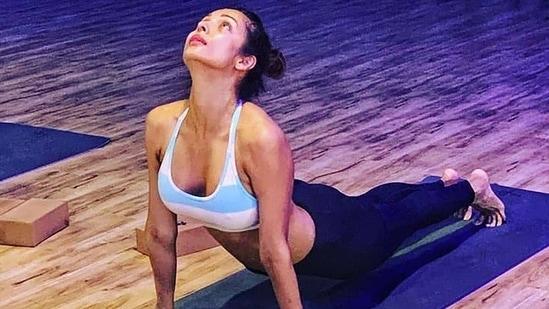 ALSO READ: Malaika Arora's yoga trainer shares tips to combat shoulder pain | Watch
One of the biggest problems faced by people in India is thyroid related disorders. Sarvesh Shashi, yoga trainer to several Bollywood celebrities such as Malaika Arora, shared an Instagram video where he spoke of a study that showed that around 42 million people in India suffer from Thyroid related disorders. "Did you know that the Thyroid hormone can fluctuate your weight? While the number of people suffering from Thyroid issues is alarming, this is also one of the main causes of weight gain," read an excerpt of his Instagram post. Sarvesh further shared tips on the yoga routine that should be incorporated in the daily routine in order to regulate the thyroid gland. They are, as follows:
Halasana
Ustrasana
Bhujangasana
The yoga asanas shared by Sarvesh comes with multiple health benefits. Halasana helps in stretching the spine and toning the back muscles. It also helps in strengthening the shoulders, arms and legs. Ustrasana, on the other hand, helps in strengthening the chest, abdomen and quadriceps muscles. It also helps in reducing cervical tension. Regular practice of Bhujangasana helps in enhancing the flexibility of the body and elevating mood. Soothing the sciatica and reducing stiffness in the lower back region of the body are also some of the benefits of performing Bhujangasana.