Myths about gallstones: Is normal life possible after removing gallbladder?
Nov 28, 2022 03:01 PM IST
Is gallstone a hereditary problem? After the gallbladder is removed, one should not eat fatty foods? Is it not possible to lead a normal life after removing the gallbladder? Doctor debunks the popular myths surrounding gallstones and reveals facts
Did you know gallstones lead to severe pain and fatal illnesses and though there is so much information available on the Internet about different gallstone treatments, some of them are also unsafe? There are some misconceptions regarding it so we decided to get a doctor on board in an attempt to clear all the doubts.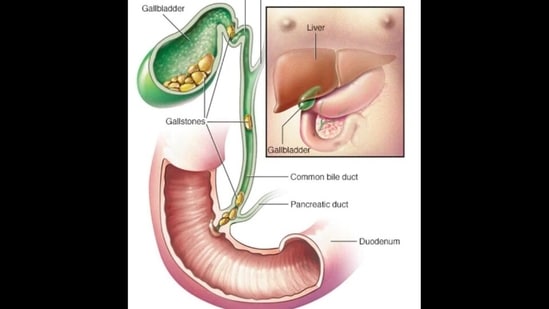 In an interview with HT Lifestyle, Dr Rajan Modi, Laparoscopy and Laser Surgeon at House of Doctors, explained, "Gallstones are seen when bile juice forms tiny crystals and over time grows into stones that are present in the gallbladder. Sometimes, those gallstones will not showcase any symptoms but the common symptoms associated with it are nausea, abdominal pain, diarrhoea, indigestion, chest burn, loss of appetite and jaundice."
He added, "It may also lead to complications such as Pancreatitis, Jaundice, Sepsis, etc but not many are aware of gallstones and the complications related to them." He debunked some myths associated with gallstones that include:
Myth: Gallstone is a hereditary problem
Fact: It is a lifestyle disease and a metabolic disorder. Though it is seen in families no hereditary link has been witnessed as per the evidence available.
Myth: After the gallbladder is removed, one should not eat fatty foods
Fact: Patients do not become fat intolerant after gallbladder removal surgery. There are no studies available that suggest that post-cholecystectomy patients become fat intolerant as the gallbladder tends to store bile. However, larger amounts of fatty, greasy, or high fiber food may become harder to digest in a few patients.
Myth: Gallbladder removal will help to remove only stones.
Fact: Stones mean malfunctioning of the gallbladder, so removing only stones will lead to the recurrence of symptoms. It may also lead to complications like jaundice, infection, contracted gallbladder with adhesions, etc.
Myth: Gallstones are managed by using waves.
Fact: Extracorporeal shock wave lithotripsy (ESWL ) helps to tackle kidney stones. Such treatment is not performed for gallstones, instead the entire gallbladder is removed. As leaving back the gallbladder can lead to recurrence of gallstones and can cause many complications like infection, jaundice, adhesions, etc.
Myth: Gallstones surgery is life-threatening
Fact: This is a false statement. Gallstones surgery is extremely safe and effective. There are no severe complications linked to this surgery. Moreover, keyhole (laparoscopic) surgery to remove your gallbladder has faster recovery when compared to a traditional large incision. Patients can do most activities including bathing and showering immediately after the surgery, and is associated with minimum pain.
Myth: It is not possible to lead a normal life after removing the gallbladder.
Fact: The patients have no problems after the removal of their gallbladder(gallstone treatment) and tend to feel relieved to have removed the source of a problem that affected their ability to lead a normal life. In few patients there may be certain digestive problems after surgery like heartburn; however these symptoms occur only for a certain duration post surgery and it gradually settles down. So, do not worry, it is possible to resume your normal routine after surgery.