Pesticide overdose puts poison on your platter
Aug 25, 2018 01:39 PM IST
All the fruits and vegetables that glitter on the dining table are not good for the stomach as they may be carrying an unmonitored dose of pesticides, which have a toxic fallout on human health.
All the fruits and vegetables that glitter on the dining table are not good for the stomach as they may be carrying an unmonitored dose of pesticides, which have a toxic fallout on human health.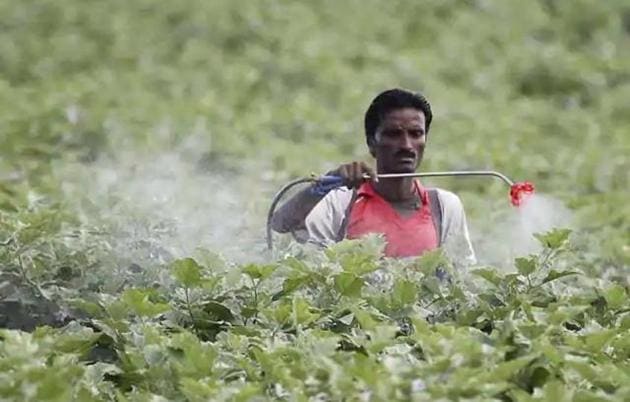 Statistics reveal use of bio pesticides (considered safer than chemicals) is just 0.5% of the total pesticides used in Uttar Pradesh. The chemical pesticides used by a majority of farmers go unmonitored.
"Farmers are guided by shopkeepers, who sell pesticides with maximum (profit) margin. There is a lack of awareness about proper dose. To save labour cost, farmers use the maximum possible concentration of pesticide," said TA Usmani, joint director, plant pathology at the Central Integrated Pest Management Centre (CIPMC).
CIPMC has been training farmers and monitoring their maximum residual limit for pesticide, but the number of such farmers too is 0.5%. Lucknow has about two lakh farmers, but only a thousand have attended sessions with CIPMC on how to use pesticides in a year.
"We train farmers to use bio-pesticides at the right time and in correct quantity. If this is done, pesticides will not turn harmful, said TA Usmani.
Farmers in Lucknow said pesticides were a sure tool for obtaining better yield as they controlled pests and were cheaper than organic pesticides.
"For using organic pesticide, we have to start early and take preventive steps against pests. The chemical pesticides can be used even when the crop gets infested," said Ramesh Kumar, a farmer in Malihabad.
"The attempt to get higher yield from land paves the way for excessive use of pesticide," said Dhananjay Singh, plant protection officer of Lucknow.
"In over 30 years of my career as scientist, I have seen farmers listening to instructions for using organic pesticides or chemical in a controlled manner so that its impact lasts for a short period, say a week. But what farmers do in the field makes the impact (of pesticide) last for a month," said Dr Ashraf Hussain, a scientist working in the eastern part of the state.
Sample this. If a farmer puts neem as pesticide, he would require up to 25 kilogram of it per hectare in case it is used as preventive pesticide. To fight diseases such as stem borer, fruit flower borer or maggots in Brinjal crop, the requirement will go up.
Prof Kausar Usman, senior faculty, King George's Medical University, said pesticide can enter the body via plants and the long-term exposure to pesticide is sure to have an adverse impact on humans. But unfortunately there had been no study done on it, he said.
Giving another example, he explains,
"Many children, who regularly consume chicken, become obese due to the impact of the energy given to them (chicken) beyond their need. This food often contains anti-biotics that poultry owners give to chicken. Nano-particles enter the body and make children resistant to certain anti-biotics."
CUMULATIVE IMPACT
It's the cumulative impact of pesticide that poses problems.
"Ironically, there has been no study to prove the pesticide and disease link, but I can say when someone is exposed to food grown with overdose of pesticide for long, the impact is on organs, particularly the vitals ones such as the kidneys or intestines, to start with," said Prof Kausar Usman, senior faculty at King Georg's Medical University's medicine department.
WHEN SIMPLE PESTICIDE TURNS HARMFUL
Pesticides are meant to be sprayed on produce in a fixed dose so that pests die and the produce also remains healthy for people to consume. If a fixed dose is sprayed, the hazardous impact ceases in a week. But farmers spray an overdose (of pesticide) on the advice of shopkeepers and chemical company representatives. The impact lasts up to a month.
The plants absorb pesticides, and residues linger on fruit and vegetable skins all the way to your kitchen, even after you wash them. Stem and even fruit absorbs pesticide in traces that enters body of man or animal.
Malathion used in several crops kills insects by preventing their nervous system from working properly. People, pets and other animals can be affected the same way as insects if they are exposed to malathion. Malathion is also readily taken into the body through skin. In both humans and animals, malathion travels to the liver and kidneys and affects the nervous system. "Bananas, apples, peaches, strawberries, grapes, celery, spinach, sweet bell peppers are some farm produce that are said to be absorbing pesticide quickly," said prof Usman.
Faizabad is the hub of banana cultivation in UP.
Banned chemical pesticides also make their way into farms in India. Monocrotophos, an organophosphate insecticide that is acutely toxic to birds and humans, is available in India though it has been banned in the United States, the European Union and many other countries.
THE ORGANIC CHALLENGE
Consuming organic food grains and vegetables only is the best, albeit difficult, way to keep pesticides from entering your body. But there are very farmers who grow organic crops.
"Only a field where organic manure is used for the past three years consecutively can said to be producing organic vegetables and food grains," said Jitendra Dwivedi of Gorakhpur Environmental and Action Group that promotes organic farming in the state.
This is because once a chemical is used in a field, it takes no less than three years to weed out chemical completely from the soil.
"Home kits are available to check pesticide content in food products but the process is time-taking and cannot be followed in everyday life," Dwivedi said. HTC
UNDER THE SCIENTIFIC LENS SINCE 1989
The widespread use of pesticides in agriculture first came under scientific lens in 1989 with research at Aligarh Muslim University showing that they induce alterations in the neurochemical metabolism. Dimecron (Phosphamidon), an organophosphate insecticide first reported in 1960, induces neurotoxicity by penetrating the blood-brain barrier if it reaches the central nervous system.
"The use of organophosphate pesticide has been found to improve agricultural output, besides controlling vectors of various parasitic diseases. However, indiscriminate and ever-increasing use of pesticide has been reported to induce toxicity in man and other non-targeted organisms with the brain being the most susceptible and vulnerable," stated the research conducted under guidance of Prof Mahdi Hasan, an anatomist and the first in UP to do research upon human brains. He established the interdisciplinary brain research centre in 1970 and was its director.
"In India, we have till now been concentrating on increasing food production to feed people but the idea that quality of food is important to sustain human life took a back seat," said Prof AA Mahdi, vice chancellor of Era University and an expert in lead toxicity.
Prof Mahdi, the founder of UP's first lead toxicity study centre, had in 2008 reported the first case of lead toxicity in a woman. While treating the woman, prof Mahdi discovered she was not exposed to industrial toxicity as she was a housewife. Hence, the prime suspects were the vegetables she bought and treatment was done keeping this in view.
"Vegetables can be the prime suspect in case of pesticide toxicity among humans who eat them as they (vegetables) come fresh from the farm and carry almost all the properties of the soil they are grown upon," he said.
"Exciting news! Hindustan Times is now on WhatsApp Channels
Subscribe today by clicking the link and stay updated with the latest news!"
Click here!