Agnyaathavaasi movie review: Pawan Kalyan film is a bumpy ride with under-utilised potential
Updated on Jun 19, 2019 09:08 PM IST
Agnyaathavaasi movie review: The stunt choreography in the Pawan Kalyan starrer in one of its highlights. The flow, the move, even unbelievable feats are so sharply shot that they pack a punch.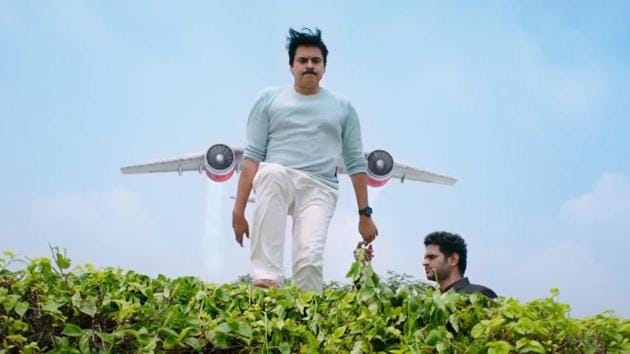 Agnyaathavaasi
Director: Trivikram Srinivas
Cast: Pawan Kalyan, Keerthy Suresh, Boman Irani, Khusbu, Aadhi Pinisetty
Rating: 2/5
Trivikram Srinivas and 'Power Star' Pawan Kalyan's Agnyaathavaasi starts off on a powerful note. Marketed as an intense revenge drama, the beginning foretells of an engaging watch if not an edge-of-the-seat thriller. But, would that have fitted with the actor's image of a commercial star? The answer is no and the thriller is soon watered down with songs, romance, slapstick humour and action.
The introduction scenes of Pawan – who plays the lead Abhishikta Bhargav – and Khushbu have promise but forceful moments are spoiled by forced humour and romance. The first half has too many hiccups, largely due to an attempt to fit in the demands of a commercial movie.
Particularly distasteful is how sexism and sexual harassment at work is passed off as humour in the film. Trivikram seems to know the pulse of the majority of the audience quite well, for this scene cringe-worthy scene had many laughing. The film does address the problem in a later sequence when Pawan's character is in power and is shown punishing the offender. Makes one wonder, does it take power to call out harassment?
Director Trivikram did well by accepting that when one cannot be creative or find creative solutions, it is always better to fall back on cliches and easier solutions. A dialogue in the film even sportingly says the same. This is probably why we see the leading man trying to manipulate two women, as a means to an end. Anu Emmanuel as Suriya Kantham is a character that the film could have done without. Keerthy Suresh as Sukumari, on the other hand, though not very useful to the plot, adds entertainment value with her sarcastic humour.
Thankfully, the stunt choreography in the film in one of its highlights. The flow, the move, even unbelievable feats are so sharply shot that they pack a punch.
The film also has powerful dialogues which adds depth to the film. This is not unexpected of Trivikram who is known for being a great writer. Take this one, for instance: "This is a chair that we sit on, a tree is cut, chopped into many pieces, sharpened by blade and then is nailed to give it form. There is so much torture hidden behind this. Similarly, in life, there is a mini war behind every comfort we wish. We have to wage a war if we want our wish to come true."
But better yet was this dialogue by Khushbu right before the interval block. The scene is beautifully set with understated lights and she talks about the loss of her husband and son, she talks about justice and she talks about the difference between violence and justice. This is the most intense bit in the film, and not because it is loud. The scene managed to be impressive because of Khushbu's skills as an actor.
There is a scene which combines great dialogue and action. It is when the meaning of Agnyaathavaasam - the period when the pandavas were in exile – is explained. This particular scene is about Nakula Dharma, which an elderly man explains in words and Abhi explains with action. This scene is a visual treat.
The third great thing about the film is Anirudh Ravichander's music. The young composer who is making his debut in Telugu filmdom has done wonders. The background score – an instrumental piece that is a combination of the veena and flute – will stay with you. The songs are great too, but the visuals were underwhelming. The songs were inserted at such odd moments making it a force fit in the film. Funnily though, the Koteswar Rao song sung by Pawan Kalyan was more appropriate for the film.
The cinematography is done brilliantly and accents the positives for the film in the best way possible. The lighting especially is noteworthy. Cinematographer V Manikandan has played with shadows in the film. Khushbu's monologue is another beautifully lit scene.
The villain of the film, Seetharam, played by Aadhi Pinisetty is a man who rarely gets his hands dirty. He has men to take care of things for him. He is hungry for power, plans everything perfectly (or so he thought?) to feed his hunger. Aadhi is turning out to be a man who embodies grey shades really well.
Boman Irani's role of Govinda Bhargav aka Vinda is short but crucial to the film. He always has a plan B when it comes to business. Abhi is his plan B for life.
Pawan Kalyan as Abhi is a rich man's son who is brought up among workers. He loves his father, his stepmother and brother even more. He is intelligent, kind and the shining example of a leader. Pawan Kalyan has done such roles before and he did it again. He tries to be funny, which works most of the times. It is not an extraordinary performance and neither is his role new.
So much potential and yet the ride was bumpy because there is a disconnect between Abhi's plan for revenge and his actions. His planning is intense and when he carries the plans out it all seems too trivial. The film tries hard to be a powerpacked entertainer, but in the end, it comes as a revenge drama/slapstick comedy.
Author tweets @Priyanka_S_MCC
Follow @htshowbiz for more

ott:10:ht-entertainment_listing-desktop
Personalise your news feed. Follow trending topics