Veere Di Wedding movie review: Kareena Kapoor, Sonam Kapoor film offers style but no soul
Hindustan Times |
, New Delhi
Sweta Kaushal
Jun 01, 2018 09:51 PM IST
Veere Di Wedding movie review: Kareena Kapoor Khan tries her best but fails to uplift this outrageous, gratingly loud and unnecessarily abusive film
Veere Di Wedding
Director: Shashanka Ghosh
Cast: Sonam Kapoor AHuja, Kareena Kapoor Khan, Swara Bhaskar, Shikha Talsania, Sumeet Vyas
Rating: 2/5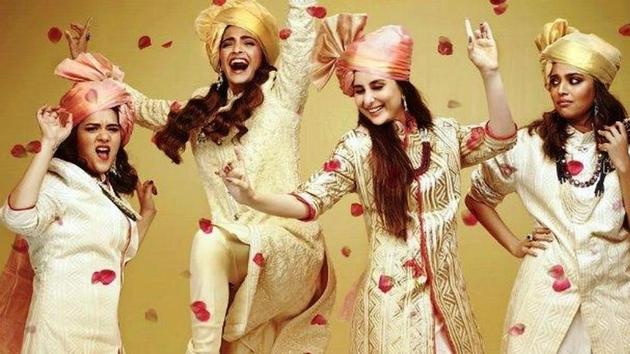 What are your expectations from a film starring Kareena Kapoor Khan and Sonam Kapoor? The general assumption would be a fashion extravaganza that is shot in beautiful locales and has attitude and sass to spare. Veere Di Wedding is all of these things -- it is also outrageous, gratingly loud and unnecessarily abusive – but what it is not, is entertaining.
Credit, however, is due to writers for choosing the characters that they have - a gay couple living in south Delhi that is looking for acceptance, a woman dealing with divorce, another one who is under pressure to get married, a commitment-phobic woman who is all set to get married and a woman beset with weight issues and an estranged father.
In theory, Veere Di Wedding is about accepting everyone the way they are; only if its execution could have carried off its lofty ideals. The plot forces characters to stay on two modes largely – highly emotional and ready to have fun. Yes, women like to drink, abuse and have active sex lives but there is so much more to being a modern-day independent woman. This movie would have you believe that marriage is stupid, friendship is the only saving grace and cigarettes are stress-busters. We all may have believed that, perhaps in college, but we outgrew it all in teenage.
Watch: Reviews of Veere Di Wedding and Bhavesh Joshi Superhero
The film's team was at pains to say that Veere Di Wedding didn't resemble Sex And The City but the similarities are hard to ignore. The veeres take impromptu 'honeymoon trip' to Phuket, a lot like Carrie and her friends heading to Mexico after her wedding goes wrong.
Swara, quite shockingly, is over-the-top as a south Delhi babe and Sonam's character impresses in parts. Shikha and Kareena's characters are the only ones among these Veeres who are relatable. Sumeet does what he does best – play a cute, understanding guy who does not care much about rituals but cannot say no to his family.
In its own subtle way, Veere Di Wedding also tries to subvert the male dominant stereotype but these moments are so few and far between that you almost miss the point. It may be a buddy comedy but it is not among the best in the genre, not even top five.
Interact with the author @swetakaushal
Follow @htshowbiz for more