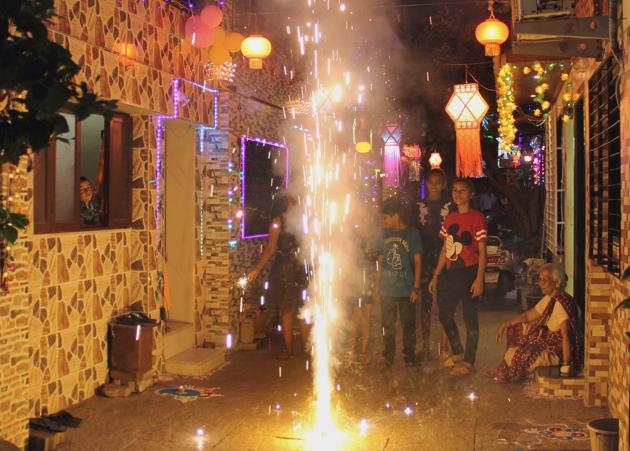 Diwali's here, but Maharashtra pollution board fails to declare chemical analysis results of firecrackers
Results of chemical analysis had to be declared on Monday
UPDATED ON NOV 07, 2018 12:26 AM IST
After assuring it would follow through on a ban on heavily polluting firecrackers, the Maharashtra Pollution Control Board (MPCB) has failed to declare the results of its chemical analysis of firecrackers for the fourth consecutive year.
With the latest Supreme Court (SC) order restricting the use of firecrackers to two hours, identifying harmful ones could help reduce air pollution and allow children and parents decide on buying less polluting firecrackers, said activists.
On November 2, HT had reported that a chemical analysis and heavy-metal test for different firecrackers available for sale this Diwali found the presence of hazardous metals or metal oxides, which are unsafe for human health. Of the 36 crackers tested, lead was detected in 14. The use of lead was banned by SC last year.
MPCB officials had refrained from commenting about the study, stating that there was no authenticity of the private laboratory where the chemical test was carried out.
In a response, VM Motghare, joint director, air quality, MPCB, said a detailed report of their own analysis would be released on Monday, and based on the results they would send their recommendations to the Petroleum and Explosives Safety Organisation (PESO) to ban polluting crackers.
"The analysis is still underway and has not been completed," Motghare told HT on Tuesday. "There were some issues with the instruments and the results will take some time. However, real-time air quality and noise monitoring will be done for the entire Diwali period."
Last year, MPCB issued a similar statement after failing to publish results.
An officer from MPCB, on the condition of anonymity, said senior officers and scientists responsible for the chemical analysis were on leave. "The results will not be declared before next Monday," he said.
On October 23, the apex court passed an order directing all states to use 'green' firecrackers for a stipulated time frame of two hours. On Wednesday, the apex court modified its order by allowing all states, except the National Capital Region, to use its existing stock of firecrackers this Diwali but the two-hour time limit persisted. Meanwhile, anti-pollution activists said in light of the recent SC order and Awaaz Foundation's report on the presence of hazardous chemicals in crackers, it was imperative that MPCB released its findings.
"I have appealed to chief minister Devendra Fadnavis to look into this matter personally and to ensure no toxic crackers, which could adversely affect the health of millions of residents of Mumbai and Maharashtra are available for sale," said Sumaira Abdulali, convener, Awaaz Foundation.
"We supplied firecrackers to MPCB to analyse chemical content for the fourth year in a row, but we are unaware of the results of any of the tests."
Adhering to SC guidelines, the state home department on Tuesday said the time period for bursting crackers across the state on Wednesday will be between 8pm and 10pm. Amitabh Gupta, principal secretary (home), said the time frame would be the same for the entire state as none of the districts raised any objections.
SETTING THE LIMIT: BETWEEN 8PM AND 10PM
The Mumbai police said the two-hour time period for bursting firecrackers on Wednesday is between 8pm and 10pm, according to Supreme Court guidelines.
"There is no separate two-hour time frame for the city. It is as mentioned by SC. We have instructed police stations across all zones to keep a watch in their respective areas. If there are any complaints or any violations reported by our patrolling parties, necessary action will be taken against violators."
Manjunath Shinge, deputy commissioner of police and Mumbai police spokesperson.
Why you should care
'Long-term effects of firecrackers can cause development dangers to children'
HT had reported last October that people exposed to copper, sulphur and charcoal in firecrackers are at risk of contracting carcinogenic (potential to cause cancer) diseases and the presence of nitrates could lead to developmental dangers to children and unborn babies, revealed a study by the Central Pollution Control Board.
What do the firecrackers contain?
In a study from 2015, Awaaz Foundation measured the chemical content of some commonly available firecrackers and found high levels of mercury, lead and sulphur. These crackers are commonly used during Diwali and throughout the year and often handled by children. Mercury and lead are listed by the World Health Organisation (WHO) as among the 10 most dangerous chemicals in the world
The Petroleum and Explosives Safety Organisation (PESO) order
"All fireworks manufacturers are advised to strictly comply with SC orders and no fireworks shall be manufactured, which contain antimony, lithium, mercury, arsenic and lead in any form whatsoever."
An order by PESO last year, based on a SC directive
Close