Ex-Navy man develops portable biogas plant in Vasai
Hindustan Times |
, Palghar
Ram Parmar
Jun 14, 2018 08:02 PM IST
Plant generates around two hours of cooking gas and 4kg of liquid manure daily after it is filled with organic waste, says Rajagopalan Nair, its developer
A retired Navy man has developed a portable biogas plant that can be used for domestic and commercial purposes. The plant generates around two hours of cooking gas and 4kg of liquid manure daily after it is filled with organic waste including wet garbage generated from households, its developer said.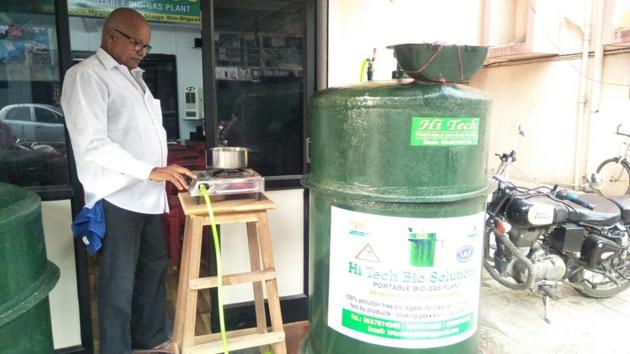 Rajagopalan Nair, 68, retired from the Indian Navy in 1974 after serving the institution for nearly a decade. After retirement, he became a civil engineer. Nair then started his own civil construction firm in Vasai and still lives there.
"This is the first portable biogas plant manufactured in India," said Nair. "My aim was to introduce a system that can eliminate wet wastage produced in scores of households like vegetable and fruit peels,discarded meat, chicken and fish waste,and other forms of wet garbage.With my plant the wastage produced in the household kitchen can be converted into different types of by-products like cooking gas and liquid manure,"said Nair.
Nair tested the plant in 2008 in Thrissur, his home town, in Kerala. The plant received ISO certification on May 22, 2018. Nair said he decided to introduce the plant in Vasai after getting the certification.
The Vasai Virar Municipal Corporation (VVMC) already gives a 5 percent subsidy in house tax to residents of Vasai and Virar who install biogas plants in their homes, besides the subsidy that exists for the installation of rainwater harvesting system.
Nair said the biogas plants currently available in India follow a "floating model" that have many drawbacks, including bad odour being produced during the process, attracting pests and other insects and so on.
Weighing around 350kg and made of fibreglass, the digester (a large tank) is the main component of the plant. Inside the tank, bacteria convert organic matter into methane gas through the process of anaerobic digestion, Nair said.By providing a non-polluting energy source that is also renewable, the earth is being kept clean of harmful emissions, said Nair.
The by-product produced by the plant, called slurry, can be used as bio-manure . Nair said that using his plant, one can on average get 4kg liquid slurry daily, which can be used as manure for plants. He also said that nearly 2 hours cooking gas would be available during the day.
Besides the subsidy given by the Union Government for encouraging biogas in the country, the VVMC gives a 5 percent subsidy on house taxes, if the tax payer has installed a biogas plant in his house. The decision was taken in last year's budget. Falguni Rajput, in-charge of the Swachh Bharat Abhiyan initiative in the Vasai civic body, said biogas is a good concept and has to be encouraged in the interest of waste management. "The VVMC has taken the initiative and decided to give 5 percent subsidy to the residents of the twin cities in house tax," said Rajput.