In reverse gear: Fleet of Mumbai public buses reduces, but number of pvt vehicles increases
Apr 29, 2018 12:45 AM IST
BEST had its highest number of buses at 4,700, including 280 air-conditioned ones, in 2010 compared to 3,337 in 2018 — a fall of 1,363 or 29%
Once considered the backbone of Mumbai's public transport, buses of Brihanmumbai Electric Supply and Transport (BEST) undertaking are in reverse gear. A lot has changed the since the heydays of BEST buses — an sharp jump in the number of private vehicles and mushrooming of comfortable public transport alternatives. Amid all this, the only transport which failed to keep up with the times is BEST.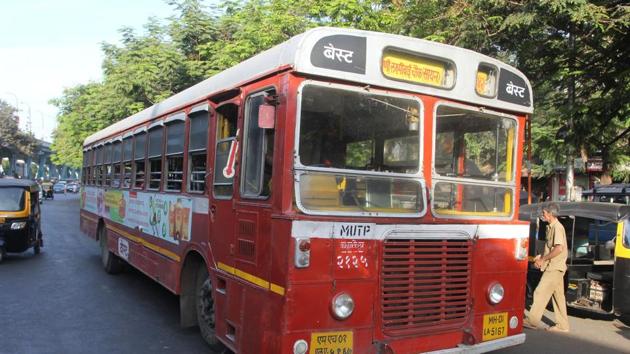 The numbers speak for themselves.
BEST had its highest number of buses at 4,700, including 280 air-conditioned ones, in 2010 compared to 3,337 in 2018 — a fall of 1,363 or 29%.Contrast this with the number of private vehicles. Mumbai's vehicular population jumped to 35 lakh in 2018 from 17.67 lakh in 2010 — a two-fold rise.
The rot does not here. BEST ridership has slumped to 28 lakh daily from 41.90 lakh in 1997-98.
Experts point out that the bus ridership started falling from 2010 because BEST failed to upgrade its service and expand its fleet. Other reasons are poor punctuality and reduced speed of buses.
The suburban train network is the largest mode of public transport in the city. It operates about 3,000 services daily and ferries 75-80 lakh passengers daily. Even the number of suburban services has increased by almost 1,000 since 2000, when its ridership was 55 lakh passengers.
The number of taxis and auto rickshaws too has gone up significantly in the same period. Taxis, including app-based cabs, have crossed the 1 lakh mark compared to 55,000 at the turn of the century. The number of auto rickshaws has increased to 1.70 lakh from fewer than 1 lakh.
Currently, BEST is the second largest mode of public transport, though it used to be the primary mode of transport for lakhs of Mumbaikars. In the early 90s, BEST buses used to ferry more passengers than suburban trains, and hence were called the arteries of Mumbai. Once they carried more than 50 lakh commuters daily.
AV Shenoy, transport expert said, BEST passengers had shifted to other modes of transport owing to poor punctuality, increased travelling time and high fare. This is the reason why load on suburban trains has increased, and the number of two-wheelers and other vehicles zoomed up rapidly.
"BEST did not take innovative ways such as dedicated routes or BRTS (Bus Rapid Transport System). This has affected speed and punctuality of buses, and therefore commuters have ditched buses and shifted to other modes of transport," said Shenoy.
Experts said the drop in the BEST fleet had contributed to the increase of private vehicles and traffic congestion. It is because BEST which takes about 40 square meter of the road space to ferry 40-50 passengers, while cars ferry only 1-2 passengers taking 10 sq meter road space.
"Unlike in Mumbai, in other metro cities such as Bangalore and Delhi, the number of bus riders has gone up," said Ashok Datar, transport expert.
Exciting news! Mint is now on WhatsApp Channels
Subscribe today by clicking the link and stay updated with the latest financial insights!
Click here!