Malnutrition: Pay attention to the Palghars within Mumbai
There are Palghars within Mumbai too – slums, homeless communities, neglected old settlements where malnutrition is severe but barely gets attention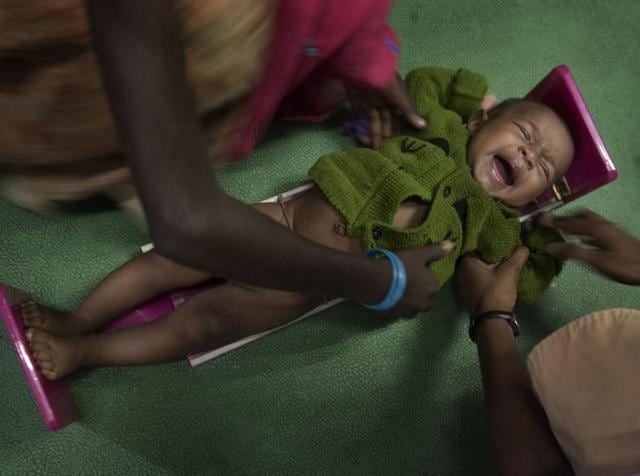 Updated on Sep 28, 2016 10:59 AM IST
About 100 kilometres or a two-hour drive north of Mumbai lies Palghar, Maharashtra's newest district created two years ago. The pre-dominantly tribal and poor Palghar with less-than-basic infrastructure is familiar to well-heeled Mumbaiites as a weekend getaway to natural farms or as a second home destination. Palghar's battle with severe malnutrition among children, especially those below the age of six, is not as recognised and rarely makes it to the urban consciousness – unless little children die in large numbers.
Between April and August this year, Palghar reported that nearly 210 children below six years had died and a staggering 6,000 were malnourished. The deaths in the last few weeks woke up the state administration and sections of the media. Malnutrition is hardly ever cited as the cause of death but it is. Malnourished young mothers give birth to under-weight infants who, thanks to persistent poverty and non-availability of subsidised foodgrains and clean water, sink deeper into the morass. They are so severely malnourished that even diarrhoea spells death.
There are Palghars within Mumbai too – slums, homeless communities, neglected old settlements where malnutrition is severe but barely gets attention. In fact, malnutrition in Mumbai was denied till Dr Abhay Bang's landmark report in 2004 forced the then state government to concede. A spate of children's deaths the following year when the media lens was on the issue pushed the government to start the Aaganwadi programme in Mumbai's slums.
The aanganwadis were the central government's one-stop intervention through the Integrated Child Development Scheme (ICDS) to address malnutrition among children and pregnant women with healthy food, weight records, identification of the malnourished, and referrals. The slums of Bandra, Sewri, Govandi, Mankhurd and Malwani among other areas saw aanganwadis sputter to life. But even at their optimum level, in 2011-12, Mumbai had just one aanganwadi centre for 1,600 persons though the norm was one for every 600-800. The near-absence of primary health centres, lack of clean water and sanitation facilities in slums did not help.
In the last two years, funds to the ICDS and other intervention programmes were slashed. The number of aanganwadi workers dropped, some centres turned into make-shift restaurants for the working class, others moved into the houses of the workers. Where they function, aanganwadis focus on feeding children; recording their weight and identifying under-weight children is hardly done. As in Palghar, where the budget cuts to intervention programmes severely crushed children's chances of living, Mumbai's slums too have suffered though not on the same scale. But should children have to die for the government to wake up?
Urban malnutrition is a neglected issue, over-shadowed by other issues of slums. In a majority of Mumbai's slums and areas where the poor live, severe malnutrition among children was found to be higher than in Jawahar taluka of Palghar, showed economist Dr Neeraj Hatekar and his colleague Sanjay Rode back in 2003-04. They recommended a policy combining income improvement of parents and greater public health facilities.
A decade and more later, the problem persists. Between 33% and 40% of Mumbai's nearly 7.3 lakh slum children are malnourished, according to the latest available data. And 3.5% of slum children die before they turn six because severe malnourishment does not allow them to recover from common illnesses. Every one in four children born in Mumbai's slums has a lower than the mean birth weight.
Palghar needs all the attention and resources it can get. Governments direct both to crisis-hit areas. But neglecting urban malnutrition will not do. The silent epidemic is creeping upon Mumbai's slum children, they who live in its margins. The better off are breaking their heads over childhood obesity. But while this obesity is addressed, including in some of Mumbai's best private hospitals, malnutrition in slums is barely acknowledged. The Palghars within the city remain out of government and public consciousness.
Close Story