Mumbai gets its river, mangrove, beach clean-up network
Updated on May 06, 2019 12:20 AM IST
Hindustan Times will partner with non-profit Project Mumbai to lead a city-wide network of volunteers, green groups and authorities to carry out clean-up drives across 9 beaches, 4 rivers and 4 mangrove forests over 3 days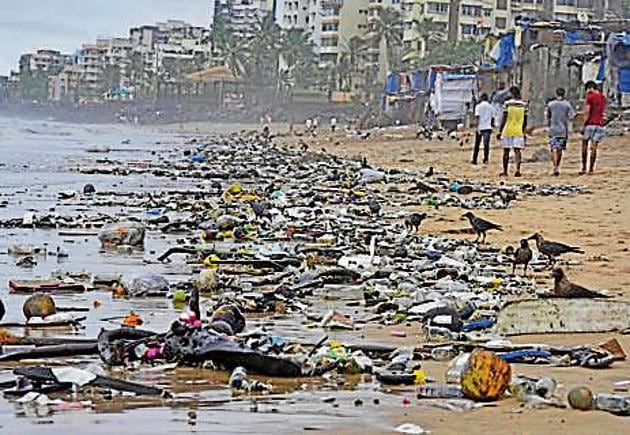 The state pollution control board's monthly water-quality assessments for rivers and coastal areas across Mumbai over two years have only revealed one result — polluted to heavily polluted waste-littered zones. However, a change is in the offing.
Come June, the city's beaches, mangrove forests and rivers are all set to witness a transformation.
A first-of-its-kind city-wide network of citizen volunteers, environment groups, corporates, Brihanmumbai Municipal Corporation (BMC) officials, the National Environmental Engineering Research Institute (NEERI), state mangrove cell, college and school students, will all come together in operation Jallosh-Clean Coasts to address the issue of domestic waste choking water bodies.
The Hindustan Times is partnering this massive effort to save Mumbai's rivers, coastal zones and its waterfronts.
Led by non-profit group Project Mumbai, a three-day clean-up drive around World Environment Day (June 1, 2 and 5 — which is D-Day) combined with awareness programmes will be held across nine beach fronts — Girgaon Chowpatty, Cuffe Parade, Worli, Dadar, Mahim, Bandra, Versova, Juhu and Madh, four rivers — Mithi, Dahisar, Poisar and Oshiwara — and four mangrove forests – Borivli creek, Versova, Carter Road in Bandra, and Charkop.
"For long, our coastline has been neglected and severely damaged. Worse is the state of our rivers, which people are not even aware of," said Shishir Joshi, chief executive officer and co-founder, Project Mumbai. "With this unique initiative, voluntary groups and the government will come together for a larger cause, creating a public-private-people partnership that can lead to social transformation,"
The latest water-quality analysis by the Maharashtra Pollution Control Board (MPCB) found faecal coliform (FC) — an indication of human and animal excreta — in the seawater along Mumbai's coast continues to be 60% higher than the accepted standard owing to discharge of untreated sewage. It ranges between 920/100ml to 1,200/100ml as against the safe standards of 100/100ml. "Being exposed to such water is an immediate threat from diarrhoeal diseases. Contaminated water, especially with the presence of FC, where specific kind of bacteria is not known is a health risk for residents," said Dr Paresh Kantharia, surveillance medical officer, World Health Organisation (WHO), Mumbai.
The MPCB said municipal corporations were sleeping on environment issues in Mumbai and Maharashtra. "They need to recognise their responsibilities and ensure every citizen has access to clean air and water. The only way to do this is by having such networks, forcing corporations to spend more on constructing sewage treatment plants (STP) along all marine and river outfalls," said YB Sontakke, joint director (water quality), MPCB.
Project Mumbai's efforts will be collated in the form of a report and submitted to various state agencies for follow-up action. "The idea is to engage the government to formulate and implement an environment-friendly policy to rejuvenate water bodies in the Mumbai Metropolitan Region," added Joshi.
The BMC said it was a welcome step as there was a need for a change in attitude. "The concept of 'I will throw and you pick up' will not modify the present scenario. A large-scale movement such as this will lead to a behavioural change, which is the key for Swachh Bharat Abhiyaan," said Kiran Dighavkar, assistant municipal commissioner, BMC.
Sewage generated in Mumbai is 2,671 million litres a day (MLD), of which 2,016 MLD is sent to sewage treatment plants (STPs) across seven locations — Bhandup, Ghatkopar, Versova, Malad, Colaba, Worli and Bandra. The remaining 655 MLD is directly discharged into creeks and the sea at different locations daily, which means almost 25% of the city's sewage, is entering the sea directly, the state environment department told the Bombay high court (HC) earlier this year.
What's worse, Mumbai has the highest quantity of plastic strewn across its fishing grounds across India's 7,516-km coastline with 131.85 kg of plastic per sq. km. Plastic was discovered in the stomachs of four fish species along the Mumbai coast, such as tuna, mahi mahi, threadfins (rawas), and croaker (dhoma), and two shark species — spadenose and hammerhead, according to the Central Marine Fisheries Research Institute (CMFRI).
Environment groups such as Jay Foundation, Mahim Beach Clean-Up, Beach Warriors, Beach Please, River March, Make A Difference (MAD) Foundation have already joined the Project Mumbai network.
"Mumbai has witnessed clean-up drives, but they are all isolated from one another with efforts concentrated mostly along the western seafront. Now, these sporadic efforts will be combined with simultaneous clean-ups across creeks, rivers and beaches to restore ecological hotspots," said Gopal Jhaveri from River March.
Independent studies have assessed the level of biochemical oxygen demand (BOD) – oxygen level that aquatic life needs for survival – was 60-80 times the safe limit across all four rivers in Mumbai with Mithi being the most polluted followed by Poisar. "Illegal encroachments plague the flood plains with dumping of carcasses from cattle sheds at Dahisar ,while a cocktail of industrial effluents and raw sewage is directly discharged into Oshiwara and its surrounding mangrove forests," said Jhaveri.
The World Wildlife Fund (WWF) India joined the movement in an attempt to raise awareness about the value of the city's coastline. "With our strong network of volunteers, experts and marine respondents, the idea is to strive for behavioural change about not just safe-keeping and maintenance of beaches, but also protecting the marine life, sea creatures and the mangroves," said Vaibhavi Shitut, head, Maharashtra state office, WWF-India.
More than 50,000 tonnes of plastic are strewn in mangrove forests in the Mumbai Metropolitan Region, an assessment by the state mangrove cell found across 14 locations. "We collaborated with Project Mumbai by suggesting that mangrove clean-up was also essential as they are the city's first line of defence from coastal anomalies. Our resources will be dispensed across all areas where the clean-up has been planned," said N Vasudevan, additional principal chief conservator of forest, state mangrove cell.
Marine experts said the initiative needs to be replicated across all coastal cities based on its success. "Such movements stand as case studies for bringing about change. As Mumbai takes the lead, it is time the entire country comes together to transform our coastline," said E Vivekandan, marine biologist and national consultant, CMFRI.
Close Story
Personalise your news feed. Follow trending topics