Mumbra police seize deer antlers, skin
Trio was caught during nakabandi at the Y junction in Mumbra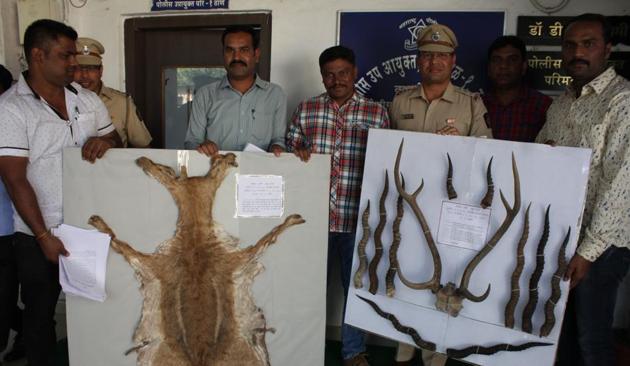 Published on Dec 01, 2018 12:22 AM IST
The Mumbra police arrested three people for possessing 10 sambar deer antlers and 53-inch skin of a spotted deer.
The three were planning to sell the animal skin and antlers for around Rs47 lakh in Thane market. The trio was caught during nakabandi at the Y junction in Mumbra.
Mohammed Taufik Mohammed Israel Saudagar, 27, Shaikh Taufik Shaikh Nasir, 22 and Rizwan Ahmed Rajik Ahmed, 23, had brought the skin and horn from Amravati.
D Swami, deputy commissioner of police, zone 1, said, "We got a tip-off that the three accused were coming to Mumbra on Wednesday to sell antlers and skin of animals. We deployed policemen at the Y junction."
The three accused were in a white Swift Dzire. The police intercepted them and conducted a search.
Ten antlers of sambar deer, various other deer horns and a 53-inch skin of a spotted deer were found in the car.
"The skin was so moist that we suspect the deer was killed recently. The three had got the skin and antlers from Amravati and were planning to sell them in Kausa, Mumbra," said Swami.
Swami said the cost of the horns and skin was Rs47 lakh in the Indian market and must be more in the international one. "We are still investigation if these people had poached the deer and if they are repeat offenders," he added.
The accused have been booked under the Wildlife Protection Act.
Wildlife conservationist Krishna Tiwari said, "The sambar's horns are used for medicinal purpose in Ayurveda. The horn is also used as a show piece and also to make flutes and other musical instruments. The deer skin is used purely for display."
He said that in the last few years, Thane has seen many cases of poaching of pangolins, sand boas, start turtles and whales.
"The police should know the Wildlife Protection Act thoroughly. Most poaching cases of spiders and marine species go unnoticed, as the police are not aware of the different schedules of the Act and what animals are included in it,"he said
The Yeoor forest department claimed to have a special team to keep poachers at bay.
R Pawar, range forest officer of Yeoor, said, "We have a special anti-poaching team of 10 officers to keep a watch on poachers in the Yeoor range of Sanjay Gandhi National park. There have being no incident of poaching in a long time."
Close Story