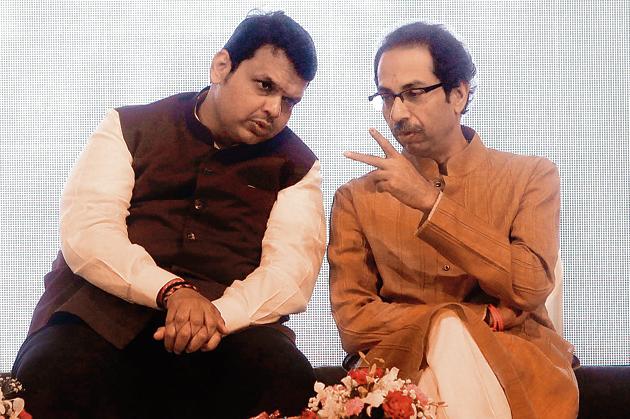 Shiv Sena intensifies its attack on BJP in Maharashtra
Sena ministers write to CM Devendra Fadnavis asking him to roll back stamp duty hike, allege corruption worth crores in CM's flagship water conservation project — Jalyukta Shivar
Hindustan Times | By Surendra P Gangan
, Mumbai
UPDATED ON MAY 18, 2017 12:28 AM IST
The Shiv Sena stepped up its attack on the Bhartiya Janata Party (BJP), its senior partner in the state government, by opposing the stamp duty hike on conveyance and the gift deed to blood relations.
It also alleged corruption in chief minister Devendra Fadnavis's flagship water conservation project — Jalyukta Shivar.
The Sena wrote to Fadnavis, asking him to reconsider the hike or the party would take to the streets against the government. It also announced a rally in Nashik on May 19 to demand farm loan waiver.
Shiv Sena leader and environment minister Ramdas Kadam and transport minister Diwakar Raote wrote to Fadnavis, asking him to roll back the hike. Kadam said the decision to hike duty will hit middle-class homebuyers and consumers transferring their flats to blood relatives. He said the decision was taken without taking Sena into confidence. Kadam added that it was Sena chief Uddhav Thackeray who directed them to oppose the decision.
He also alleged rampant financial irregularities in the Jalyukt Shivar project. Kadam said contracts awarded in Mandangad, Dapoli and Khed taluka in Ratnagiri involved corruption and substandard work. He said his son Yogesh has gathered relevant documents under the Right to Information (RTI) Act to prove the corruption, which amounts to a few crores.
The Sena also announced it would launch a parallel audit into Jalyukt Shivar works across Maharashtra, during which party workers would be asked to inspect ongoing work in their respective areas.
Brushing aside the allegations, water conservation minister and BJP leader Ram Shinde said the government is ready to probe any project under the scheme. Shinde alleged that the allegations levelled by Kadam were nothing but an outcome of his ongoing dispute with guardian minister of Ratnagiri and Shiv Sena leader Ravindra Waikar.
Kadam, on the other hand, said he has handed over all the documentary evidence to Fadnavis and claimed that the CM has admitted to poor quality work.A day after its decision, the state clarified that the stamp duty on gift deeds between father-son, grandfather-grandson will remain unchanged at Rs 200 per transaction. "Though we have suffered loss of Rs500 crore in the past two years, we are ready to bear it. The hike in stamp duty is on the gift deeds between other blood relations such as brother-sister, husband-wife," said revenue minister Chandrakant Patil.
He added that the rise in the stamp duty on conveyance is applicable only to rural and semi-urban areas. Patil said the demand seeking roll back of the hike by the Sena is owing to a misunderstanding. He said he has explained the hike to Kadam and would also speak to Thackeray if needed.
Close