Travel only if necessary, traffic police tell Mumbaikars as rain lashes city
Jul 09, 2018 10:44 AM IST
Heavy showers continued to lash the city for the third consecutive day, disrupting road and rail traffic on Monday morning.
Heavy showers continued to lash Mumbai disrupting road and rail traffic across the city on Monday morning.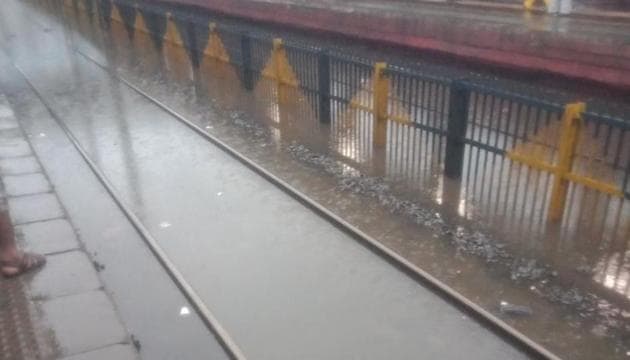 The traffic police have advised Mumbaikars to venture on the roads only if is necessary. Officers have requested the commuters to check radio and WhatsApp updates on traffic before heading out.
READ: Live updates on Mumbai rain
The traffic control room officers said that at 7.30 am traffic had started building on the Western Express way, SV road and Link Road. Also there was slow moving traffic at Dadar, Matunga and Sion due to water logging in Hindmata at Dadar and Gandhi Market area in Kings Circle.
Monday is the third consecutive day of heavy showers and waterlogging in the city.
Several suburban train services were running late on Central Railway (CR), and Western Railway (WR).
The suburban services on WR are running up to 5-15 minutes late, though WR has tweeted that there is no waterlogging on the tracks except at Nallasopara, where speed restriction has been imposed.
"#MumbaiRains ,trains being run at restricted speed at Nallasopara due to water on tracks. Some delay due to this. No waterlogging anywhere else on WR. #WRUpdates @drmbct," tweeted Western Railway.
However, commuters complained of CR services running at least 10-15 minutes late.
On Sunday, the traffic police had opened the north bound road on the Gokhale Bridge in Andheri for light vehicles however the traffic was reported to be slow moving towards South. The department issued an advisory to heavy vehicles to take either the Milan Flyover, Vile Parle or Thakre flyover at Jogeshwari.
The Traffic police said given the condition of the roads and the infrastructure, the situation could worsen in the coming days if rain continues.
The police also advised the Commuters travelling from International Airport to take a U-Turn below the Centaur flyover before Parla junction and proceed north bound on WEH through the Bisleri Junction and take the SV Road through Teli Galli and Gokhale Flyover.
"The roads are clear till now, however, as people start moving out within an hour to go their offices, traffic is expected to build up," said a traffic police officer.