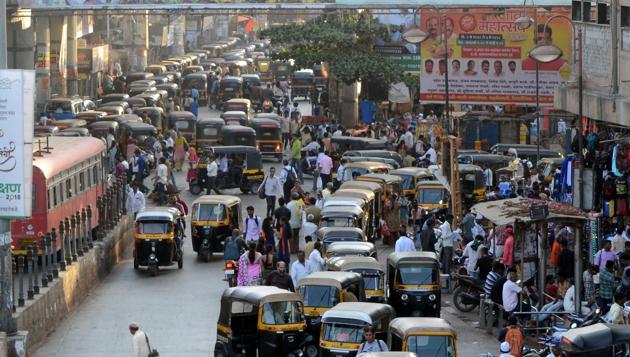 Vehicles increase in Kalyan, so does congestion
Commuters have raised concerns about illegal parking , traffic congestion, lack of traffic management system, lack of proper parking space, and defunct signals
PUBLISHED ON MAY 04, 2018 11:48 PM IST
Even as the city is grappling with traffic problems such as bad roads and no signals, vehicles in the city and its periphery have increased. The total vehicle population in Kalyan and Dombivli reached 8 lakh in 2017-18.
In 2017-18, 1,09,443 new vehicles were registered with the Kalyan Regional Transport Office (RTO), as compared to 90,735 vehicles in 2016-17.
In 2015-16, the region saw 60,719 vehicles on the road. The figures also include the vehicles in Ulhasnagar, Ambernath, Titwala, Shahad and Murbad.
"As per the RTO records, motorcycles and cars are the most registered vehicles," said an officer of Kalyan RTO.
The surge in vehicles means that commuters would find travelling more difficult. Commuters have raised concerns about illegal parking , traffic congestion, lack of traffic management system, lack of proper parking space, and defunct signals.
"The traffic congestion in the city is likely to get worse by the day as there are no proper measures taken to handle the increasing vehicle population," said Babaji Avhad, assistant commissioner of traffic police, Kalyan.
In 2004, the civic body had installed 10 traffic signals at Kalyan and three at Dombivli costing ₹53 .87 lakh and ₹15.26 lakh respectively. None of the signals is functional.
The Kalyan-Dombivli Municipal Corporation (KDMC) is planning to hire a private company to install traffic signals across the twin city. But, there is no clarity on the time frame on its implementation.
"There are some companies who have agreed to install the signals in the city but on some conditions. We are working on it and hope to finalise it soon," said an official from KDMC, requesting anonymity of name.
The KDMC is working on implementing a traffic management policy and has taken measures such as installing signals and allotting parking spaces. But residents said nothing concrete has been done.
"The authorities have not done much to control the vehicle flow. Commuters are stuck in traffic for hours at times," said Madhav Nair, 45, a resident of Murbad road, Kalyan (West).
"We have been asking the RTO to stop allotment of permits to autorickshaws as the congestion at station road in increasing by the day. We have also requested the traffic police to come up with a concrete solution to deal with the traffic movement in the city. But none of the authorities have paid heed to the requests," said Rajendra Phadke, president of Kalyan passengers' association.
Close