War over best Indian mango is a no-contest
Different types of mangoes have diehard votaries from different parts of the country.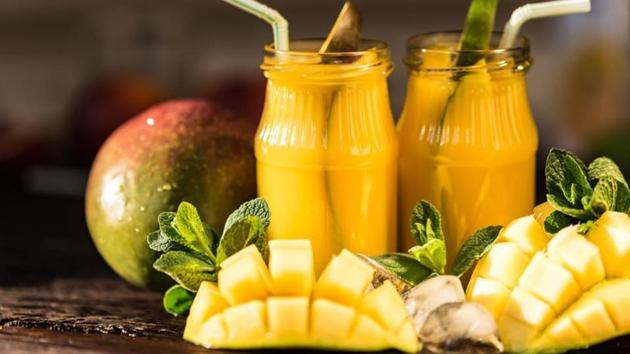 Updated on May 11, 2018 09:57 AM IST
Hindustan Times |
Ayaz Memon
We may sweat, groan, curse about the weather, but the sweltering summer has undeniable attractions too. The colours of India in this season are always glorious: flaming red, yellow, orange flowers on trees and fruits of many hues in your fridge, apart of course from people wearing bright clothes!
And the hotter it gets, nature provides more than adequate reprieves like rich red watermelons and golden sugarcane, which help make splendid coolants that help cope with the heat and humidity hammering down on us as we wait for the dazzling monsoon to arrive.
All very romantic and it's not restricted to just nature. Even newspapers usually drop their normal doom and gloom at this time of the year to do photo features on flowering trees of Mumbai. Or at least they used to till not long back. But how the media's changed is a story for another day.
However foremost among the boons of summer is that it is the season for mangoes. Though this has admittedly not been a particularly gratifying summer for me as yet, what joy it usually brings!
My supply of mangoes generally comes from Murud Janjira and Ratnagiri, which had unseasonal rain a couple of months back. This unfortunately destroyed the produce of several orchards or has had them delayed, with hugely reduced produce.
Of course, if you are a dyed in the wool Mumbaiite then you own mango wadis or you know people who won mango wadis in Raigad District and petis of mangoes get sent to you while others are still crying and craving!
I am not easily seduced into buying mangoes from the city's markets essentially for lack of faith in how they've been ripened. Earlier, just eating a mango – any mango – was a treat.
Now the taste buds are more discerning, as also the understanding of quality. In my younger days, we would buy mangoes from Crawford Market, mother smelling each piece to determine which was good or not. It's a knack that I've found impossible to understand, forget learn, but it seemed to work every time where quality of fruit was concerned.
In those days (late 1960s and 1970s) mangoes cost less than a rupee each. Nowadays, they can cost ₹300 a piece when supply is plentiful in the city. And that too is no guarantee for quality.
Given the high demand in metros, surreptitious methods are used to season mangoes artificially using calcium carbide to hasten the process, or by artificial colouring of the skin.
Both are to defraud the buyer, sadly, but few people can know the difference whether the fruit is bought at Crawford Market, at Breach Candy opposite the hospital, in the posh areas of Bandra, or wherever else in the city.
My Man Friday, who seems to know everything about everything, was chief advisor in us purchasing mangoes, regularly rejecting the `powderwala' mangoes till one day he said why waste time and money when you know people who actually grow the fruit, even if it is expensive. That has more or less settled it for me since. Yet one major issue remains. The battle over the best Indian mango. This is renewed every year as the heat kicks in, and consumes all lovers of the fruit. It's all in fun, but can also get also deadly serious.
Different types of mangoes have diehard votaries from different parts of the country. The chaunsa from Himachal, badami from Karnataka, langda and dasehri from Uttar Pradesh, hapoos from Ratnagiri in Maharashtra – to name a few – feature prominently when merits of mangoes are discussed.This debate can happen in drawing rooms or conference halls and can often be bitter.
Last year I remember a twitter war over mangoes that raged for days, till a truce was called with every diehard refusing to budge from his/her preference.
For any proud Mumbaiite, however, the public declaration has to be for the majestic, golden "hapoos" also popularly known as Alphonso. If the mango is the king of fruits, the "hapoos" is king of mangoes.Not everybody will agree. But even if one's refrigerator may be full of Banganpalli or Badami – because hapoos is so deliciously unaffordable – the fight must go on!
Close Story
Personalise your news feed. Follow trending topics