How Ayurveda and yoga have influenced the world
Published on Mar 15, 2022 07:11 PM IST
The Ayush ministry has collaborated with more than 50 countries for their promotion, a testimony that the global academia is realising their strength and efficacy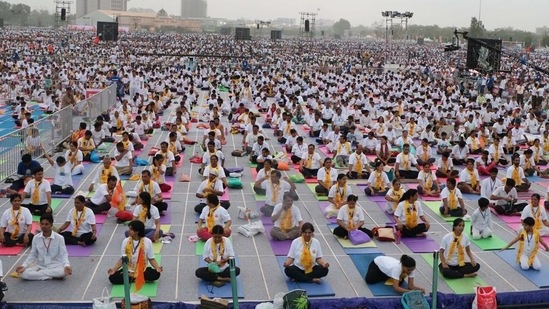 The efforts of the Union ministry of Ayush (Ayurveda, Yoga, Naturopathy, Unani, Siddha, Sowa-Rigpa and Homoeopathy) in the recent past have elicited applause from the highest echelons of the political and constitutional authorities of the country. The ministry came into independent existence only seven years ago but the inherent strength of the Indian systems of health care and well-being, coupled with the zeal and vision of a very committed team, has charted an exponential growth path that has influenced the mindset not only of Indians but also the world. The Ayush sector has posted respectable growth in recent years and the importance of Ayurveda and Yoga has been acknowledged the world over during the pandemic.
Had it not been for the visionary support and strategic push to Ayush by Prime Minister Narendra Modi, the synergised support garnered through governmental and non-governmental stakeholders would not have been possible. In a short span of time, the Ayush ministry has collaborated with more than 50 countries for the promotion of Ayurveda, Yoga and other Ayush streams, a testimony that the global academia and research fraternity is realising the strength and efficacy of Ayurveda and other Ayush streams.
The variety and range of topics for these collaborations range from pure science to experimental domains of applied sciences. One such example was the agreement between American Herbal Pharmacopoeia and Pharmacopoeia Commission for Indian Medicine and Homoeopathy (PCIMH), which laid the foundation for a significant pathway that will have far-reaching consequences for Indian traditional medicines in both the United States (US) and Europe and symbolise the growing importance of globally uniform pharmacopeial standards for traditional medicine. The ministry of Ayush has signed country-to-country memorandums of understanding (MOUs)) for research collaboration, establishing academic chairs of Ayush in foreign universities, setting up Ayurveda, Ayush hospitals, academic institutes, herbal gardens, exchange of experts, workshops and conferences.
Every year, 104 seats are allocated to foreign students to learn Ayurveda, Yoga, Unani and other Ayush systems. As of now, the ministry has signed 25 country-to-country MoUs with Nepal, Bangladesh, Hungary, Myanmar, Germany, Iran, China and Brazil, among others. Apart from this, 32 MoUs for undertaking collaborative research and academic collaborations have been signed with foreign institutes or universities and 14 agreements for setting up Ayush academic chairs have been finalised with foreign institutes; 37 Ayush information cells have been set up in 34 countries to disseminate authentic information. Ayurveda Day and the International Day of Yoga (IDY) are also being celebrated every year.
The re-designated World Health Organization Collaborative Centre (WHOCC) at the Institute of Teaching and Research in Ayurveda (ITRA), Jamnagar, has been given an extension for another four years, from April 2021 to April 2025. This collaboration started in 2013 in recognition of the knowledge-based expert services and specialties of ITRA in the field of Ayurveda. ITRA has taken up many activities such as the rationalisation and standardisation of health promotion guidelines of Ayurveda, development of standard Ayurveda treatment protocols for lifestyle disorders, orientation training programmes for foreign and national medical professionals on evidence-based uses of Ayurveda, development of strategic measures and capacity-building programmes for strengthening the pharmaco-vigilance of traditional medicines, among others.
The ministry is involved in collaborative research activities with many countries such as a randomised double-blind placebo-controlled crossover study of individualised Ayurveda management in sub-optimally controlled Type 2 diabetes mellitus being done by the Central Council for Research in Ayurvedic Sciences (CCRAS), ministry of Ayush, Government of India, University of Latvia (UL) and Arya Vaidya Pharmacy.
The Covid-19 pandemic has given the world an opportunity to think seriously about prevention and wellness. "Swasthasya Swasthyarakshanam (preserving the health and wellness of a healthy person)" — a concept well defined in the Charaka Samhita, one of the prime scriptures of Ayurveda — is the focus of the global community these days. The ministry of Ayush, along with reputed foreign institutes and organisations from the United States, the United Kingdom (UK), Germany, Brazil, and South Africa, has initiated clinical trials on mutually identified Ayush formulations to aid the recovery of patients suffering from Covid-19.
The All India Institute of Ayurveda and London School of Hygiene & Tropical Medicine, UK, have signed an agreement on July 22, 2021, to conduct a randomised, placebo-controlled double-blind trial study on "Ashwagandha for promoting recovery from Covid-19 in the UK". Furthermore, the All India Institute of Ayurveda is involved with Frankfurter Innovations zentrum Biotechnologie GmbH (FIZ), Frankfurt, in developing a project on understanding the "molecular mechanism of Guduchyadi tablets in combating Covid-19 infection- in-vitro & in-vivo study".
The ministry of Ayush developed a mechanism for an accreditation scheme for Ayurveda courses across the globe which are not covered under any regulatory body to bring uniformity and standardisation to Ayurveda education. Under its ambit, the ministry has recognised Ayurveda and Yoga courses conducted by the Maharishi European Research University, Netherlands. The ministry is also exploring possibilities for the establishment of a European Institute of Ayurvedic Sciences (EIAS) in the University of Debrecen, Hungary. The ministry has deputed an Ayurveda expert at the Yoga and Traditional Medicine Centre, Ashgabat, Turkmenistan, and is in the process of deputing an Ayurveda expert at the Panchakarma centre established in Cuba.
This is not an exhaustive narration, but it suffices, I feel, to give a broader idea that the growth of Ayurveda, based on its innate potential for the wellbeing of humanity on a scientific base, has moved beyond an irreversible tipping point.
Sarbananda Sonowal is the Union minister for Ayush, and the minister for ports, shipping and waterways
The views expressed are personal
Topics
Personalise your news feed. Follow trending topics