India may host NBA pre-season game in Mumbai next year: league chief
Orlando (USA) |
Press Trust of India
Aug 13, 2018 11:30 AM IST
India may host a pre-season NBA game in Mumbai next year, said the league's Commissioner Adam Silver.
In what could be a major boost for basketball in India, the country may host a pre-season NBA game in Mumbai next year, said the league's Commissioner Adam Silver.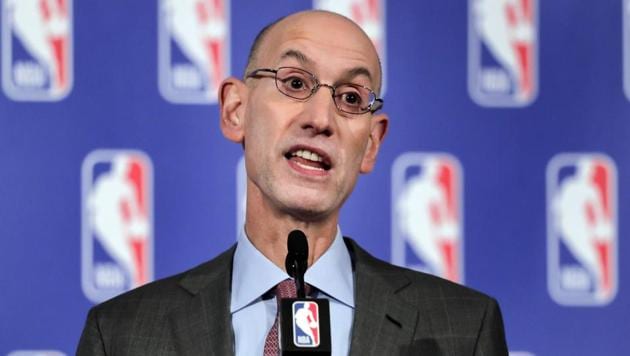 To promote the game in India, NBA in May 2017 had launched The NBA Academy, an elite basketball training center at Jaypee Greens Integrated Sports Complex in Greater Noida.
NBA's initiative has been yielding desired results as 20 odd boys and girls from New Delhi and Bengaluru have represented India in the just-concluded Jr NBA World Championships that concluded here last night.
"We had India represented here. We have an academy on the ground now. We are potentially looking to play a game in Mumbai, may be next year. It would be a pre-season game," Silver told PTI on the sidelines of the Jr NBA World Championships.
"If we do a pre-season game, we can build time and our players and their families can spend time, learn about the country's culture," he said.
The NBA chief said the organisation is determined to break the barriers in India by collaborating with the Reliance Foundation.
"We are very focused on the Indian market. We have a great relationship with Reliance and Mukesh Ambani and he and his wife's foundation. There is enormous amount of grass root basketball being played in India," Silver said.
Silver was full of praise for the talent in show at the World Championships and said the event is their endeavour to create future basketball stars.
"It's hard to define. I would say it's a fantastic first tour. We had 10000 participants from 70 countries which went through the process to be a part here. Just seeing the enthusiasm you can feel what it means to them. They have been here for a week, participated in community projects.
"They were taught life skills, how to deal with stress. I think this is just the beginning of what will turn out to be a great program," he said.
"We see this as an opportunity at a global level to putting in infrastructure. For young players just the dream of coming to the United States, that too at Disney is incredible. We believe we really can do something special with this program."
The NBA Commissioner termed the Jr NBA World Chamionships as a future investment for the organization.
"This is certainly not a business. I think for us it's an investment in the game and in future league players. It's an investment in teaching young people life skills and appreciation for what the NBA and WNBA stand for," Silver concluded.
Meanwhile, USA continued its domination in the sport with the US Central girls team and US Central boys team winning the inaugural Junior World Championship at ESPN Wide World of Sports Complex.
The Central girls defeated Europe girls team 68-38, while the Central boys beat Africa & Middle East boys 60-50.
Four awards, representing the Jr NBA's four core values – Determination, Respect, Teamwork and Community – were each presented to the boy and girl players who best represented the characteristics throughout the tournament.
India did not return empty handed from the event as Sunishka Kartik bagged the Community Award among the girls.