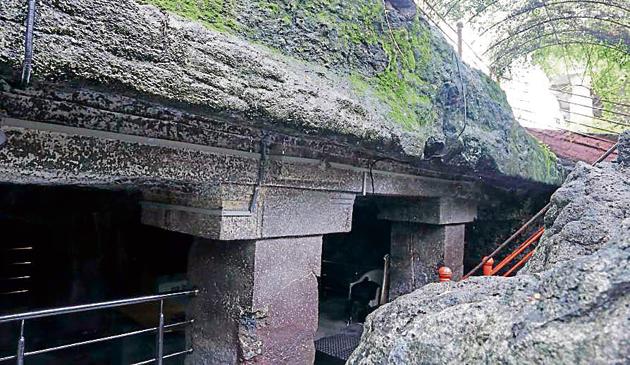 5,000-year-old cave in Pune, where Pandavas lived in exile
This is a Swambhu temple with a Shiva Linga in one of the caves and also has natural springs.
Hindustan Times, Pune | By Prachi Bari
UPDATED ON JUL 21, 2017 03:07 PM IST
Baaneshwar is a cave in Baner gaon which has a lot of historic importance. Hidden amidst growing urbanisation, this cave has been witness to many changes that happened in the city. According to a folklore, these caves date back to the Pandava era and is said to be where the Pandavas lived during their exile almost 5000 years ago. But according to late Ninad Bedekar, the caves belong to in the reign of Rashtrakut Raja, nearly 2500 years ago. The architecture of the caves belongs to the Rashtrakut Raja because of the way the pillars as well as the steps into the cave are made.
Baaneshwar is also another name for Lord Shankar or Shiva. This is a Swambhu temple with a Shiva Linga in one of the caves and also has natural springs, said Sudhir Kalamkar, trustee of the temple. The cave also has some of the Virgals found in the village. Virgals are the hero stones or victory pillars which are over 700 years old, made in a three part stone which depict the warrior's fights, him praying to Lord Shankar and the last piece depicting him gaining entry into heaven. Sadly, only four remain inside the cave. The Swambhu Shiva Linga eroded over the years, hence the Kalamkar built a new Shiva Linga for worship. This was done under guidance of Gagangiri Maharaj, Khopoli.
When you visit Baaneshwar, you also get the opportunity to walk up the stairs built into the hill. This hill is known commonly as 'Tukai tekdi'. There are 250 stairs from the Baner gaon. Atop the hill, is a temple of Tukai mata installed by Kavji Kalamkar. He was a 'Sardar' in Shinde gharana of Satara. Baner was given as a 'watan', a promise. There is a folk lore which states that Kalamkars could not sire children, and one night in a dream, the goddess requested them to build her a temple so that she could help give them children to look after the village.
There is also another folklore that a huge boulder stood at the place where the temple now stands. It is said that the boulder was stopped by Gramdavait Bhairavnath, so that the temple could be built on the hill. The other story is that boulder was stopped to protect the houses of the koli samaj.
This temple belongs to the ninth generation of Kalamkars. Earlier, it was 12 foot x12 foot outside with inner sanctum of 6 x 6 feet only, which was renovated in 2005 and increased to 2000 sq feet. The idol also has undergone a change and is now bigger with idol made in Mahabalipuram.
Close