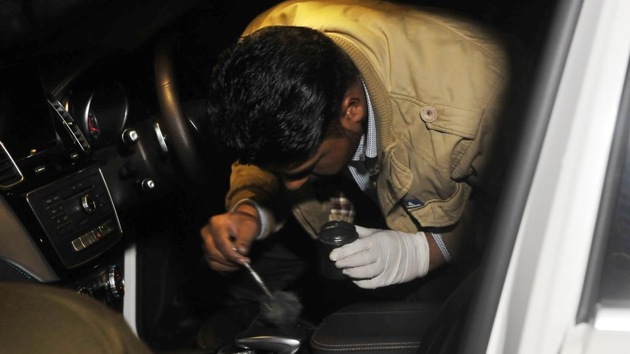 Bizman kidnapped in Mercedes: Gangsters who aided Nabha jailbreak may be involved, say police
Description, though fuzzy, of the accused given by the victim points to two Punjab gangsters who had posed as cops during November 2016 Nabha jailbreak incident
UPDATED ON FEB 24, 2018 03:46 PM IST
Two days after a businessman was kidnapped in his Mercedes car from Sector 9 and was freed after Rs 3 lakh ransom was paid, police have zeroed in on few suspects and the involvement of notorious gangsters involved in the Nabha jailbreak two years back are on the radar.
Harpreet Singh, 36, son of the owner of Shri Gurudev Photography, Sector 17, and resident of Sector 10, told the police that three-armed men had forced their way in the Mercedes as he was heading back home after working out at Bodyzone gym.
"We have zeroed in on few suspects. The investigations are on," said Nilambari Vijay Jagdale, senior superintendent of police (SSP), Chandigarh.
Police suspect it to be the work of Punjab gangsters involved in the Nabha jailbreak case of November 2016. According to the police, the description provided resembles gangsters Harry Chatha and Gopi Ghanshyampuriai, both had posed as cops and helped six lodged in Nabha jail run away. Chattha and Ghanshyampuri were believed to be associated with gangster Vicky Gounder, who was recently gunned down by Punjab police.
"On the basis of modus operandi and description we have shortlisted the suspects," said a senior police officer.
Victim fails to recall criminals' details
Sources in the police said the victim is in a state of complete shock and is unable to provide much details about the criminals. It is learnt that Harpreet Singh told the police that all three aductors were supporting beards.
It is learnt that he told the police that it was dark and thus he could not see the accused very clearly even though he was with them for about two hours. Hence, police have not got the sketches of accused made. Sources also said the victim has failed to provide the exact route on which he was made to drive the car.
Auto driver involved?
The suspects had fled in an autorickshaw after abandoning the vehicle near Goel Enterprise, Industrial Area Phase 2, near Kalibari lightpoint. The area is isolated and the possibility of getting an autorickshaw in the night is bleak. The accused were well aware the Mercedes was automatic and would not go far with the keys, which Harpreet took with himself.
Similar case remains unsolved
Three men had kidnapped a 57-year-old real estate businessman Harminder Bajaj at gunpoint from Sector 35 in September 2016. He was released after Rs 40 lakh was paid a few hours later. The accused intercepted his car and posed as CBI officials. They had demanded a ransom of Rs 10 crore.
The ransom was collected from outside the house of Bajaj's business partner in Phase 3B1, Mohali. Bajaj was released near Chappar Chiri and the kidnappers left his car a few metres after. This case remains unsolved so far.
Close