Sikhs for Justice 'unfazed' by sedition cases over its call for referendum in Punjab
Jul 07, 2017 09:53 PM IST
Accuse CM Amarinder of acting like a "toddler", say they will continue the independence referendum and take up charges against Amarinder in international courts
Gurpatwant Pannun, legal advisor of Sikhs For Justice (SFJ), who along with four others was booked for sedition by the Punjab police for launching the separatist 'Referendum 2020' campaign in the state, has dismissed the charges, saying they will only promote and legitimise the campaign. Pannun also accused the Punjab chief minister, Capt Amarinder Singh, of acting like a "toddler" and "keeping a grudge against the SFJ for filing a torture case against him in Canada".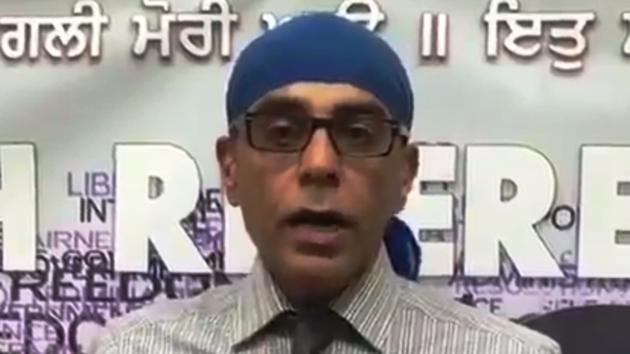 SFJ has sent a letter to the CM office in the Civil Secretariat, Chandigarh, stating, "Sedition charges will not deter us and we will continue 'Referendum 2020' campaign in Punjab from Sikh rights groups' centralised office in New York."
Stay tuned with breaking news on HT Channel on Facebook.
Join Now
Pannun told HT, "I am unfazed by the sedition and other charges as they only promote and give legitimacy to the democratic campaign for Punjab Independence Referendum 2020." He said the cases did not matter to him. "I don't recognise the Constitution and judicial systems, and any case filed under them."
All five charged for sedition are members of SFJ, which is attempting to draw the support of the Sikh diaspora for the 2020 referendum. SFJ has repeatedly targeted Punjab CM Amarinder Singh. Last year, when he was scheduled to visit Canada to woo the NRI community, SFJ had filed a case of torture against him in a Toronto court causing the Punjab leader to cancel that trip. These attacks have become more frequent since Singh won a convincing mandate in the Assembly elections held earlier this year.
Pannun accused the Punjab CM of acting like a "toddler" and said he was "keeping a grudge against the SFJ for filing a torture case in Canada to hold him accountable for human rights violations during his 2002 stint as CM, and now by forcing sedition case against me, Punjab CM is of the view that we might back down from our campaign. But as a matter of fact I am more motivated and have resolved to make sure that we take up the torture case against Capt and his police officials in international courts."
The Referendum 2020 campaign was launched in a suburb of Toronto last month, and the group also managed to get posters placed in Punjab, an act that attracted the sedition and promotion of enmity between people charges.