Kargil heroes: Serving PVC awardees muse about a war won, and comrades lost
Hindustan Times, Chandigarh |
, Chandigarh
Manraj Grewal Sharma
Dec 08, 2017 09:14 AM IST
Subedar Yogendra Yadav and Naib Subedar Sanjay Kumar are the only two serving PVC awardees, the highest military honour in the country.
They are the only two serving Param Vir Chakra (PVC) awardees of the Indian army – the Kargil heroes who were honoured with the highest military honour in the country for going beyond the call of duty. But Subedar Yogendra Yadav and Naib Subedar Sanjay Kumar wear their bravery lightly.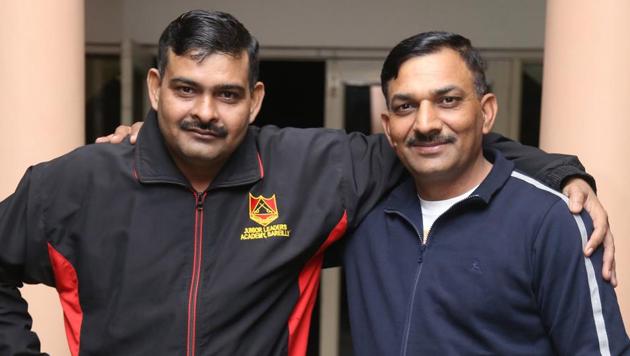 "We did what had to be done," shrugs Yadav, who at 19 was the youngest recipient of the award. It was the summer of 1999. Yadav had come home to Bulandshahr to marry on May 5. He returned on May 20 to find his battalion in Drass.
Stay tuned with breaking news on HT Channel on Facebook.
Join Now
Son of a soldier, Yadav, who was recruited to the Grenadiers at 16, knew how to counter insurgents in the Kashmir Valley, but fighting soldiers from across the border in freezing cold was a different ball game.
Kumar, who was a 23-year-old jawan in 13 JAK Rifles at that time, recalls feeling excited at the prospect of fighting the battle. "My uncle was killed in the 1965 war, in the unit they used to always talk of 1971 war; here we were in the middle of a real war."
'DEATH THE NEW NORMAL'
Yadav's battalion was tasked with capturing the Tololing Peak held by Pakistani intruders. In 22 days, they lost two officers, two junior commissioned officers and 21 jawans. "Death became the new normal," recalls Yadav, an avid reader of Munshi Prem Chand. Perched high, the enemy found easy targets in Indian soldiers who climbed up to regain lost territory.
For the first 22 days, Yadav and two others were tasked with ferrying ration from the base camp to the forward posts. "We used to start at 5.30 in the morning and reach there at 2.30 next morning."
On 23rd day, Yadav found himself part of a 'ghatak' platoon tasked with attacking Pakistani posts from an unused and very steep path. It was after climbing two nights and a day that they found themselves near the Pakistani post at the hilltop. They were asked to launch an attack. "We had to use ropes to climb the final stretch. Even though we tried to climb soundlessly, some rocks slipped and the enemy opened fire on us. Only seven of us made it to the top," Yadav recounts.
In the battle that ensued, they killed four Pakistani soldiers and holed up in their bunker. After five hours of crossfire, they decided to conserve their ammunition and wait for the enemy come close enough. Taking them for dead, Pakistani soldiers came to check. "We shot all of them but for one." He returned with artillery fire and a heavy reinforcement. "All my buddies were killed," Yadav grimaces.
He played dead even when Pakistani soldiers went around pumping bullets into the dead Indian soldiers and talking about their plans to attack Mushkoh valley.
"An enemy soldier fired a bullet at my chest but it ricocheted after hitting some coins in my wallet. For me, that was a sign that I would live to warn my comrades." With 18 bullets in his body, a bone jutting out of his left arm, Yadav lobbed a grenade at a departing soldier. Thinking that Indians had returned, the Pakistanis fled and Yadav crawled down a nullah to warn his platoon. He was in the hospital for 16 months.
IN THE LINE OF FIRE
Mountains were not alien to Naib Subedar Sanjay, a Himachali from BIlaspur, but it was unnerving to climb peaks with bunkers around. "The Pakistanis would let us climb up and then open fire."
Sanjay volunteered to be the leading scout of the attacking column tasked to capture area Flat Top of Point 4875 in the Mushkoh Valley on 4 July.
Very near the top, he found the nozzles of two machine guns above his head. Kumar pulled down the guns, climbed up and then ran firing towards the enemy bunker. In the ensuing hand-to-hand combat, he killed three of the intruders and was himself seriously injured. But undeterred, he charged onto the second bunker. Taken by surprise, the enemy fled.
Kumar's citation mentions that although he was bleeding profusely, he refused to be evacuated. For this, Kumar is grateful to his battalion medical officer, Dr Rajesh Adhow.
KARGIL FORGOTTEN?
Eighteen years on, the two look back with awe.
Kargil changed them forever. Kumar rues that the civilian world seems to have forgotten the fallen soldiers. "Everyone salutes the rising sun," he philosophises.
But they understand. "We must familiarise the youth with the uniform, may be through the NCC. You can't feel for it unless you wear it," reasons Kumar.
Yadav has the last word, "Patriotism can't be taught, it comes from within. And when you feel for your country, you will feel for the soldier."