Viktor Axelsen lauds 'tricky opponent' Srikanth after first round win at India Open
Jan 18, 2023 07:44 PM IST
The Danish World No.1 kept his undefeated run intact in 2023, beating Kidambi Srikanth 21-14, 21-19 to progress to second round at India Open.
Viktor Axelsen showed just why he rules the roost in men's singles category as he defeated India's star shuttler Kidambi Srikanth in straight games (21-14, 21-19) to enter the second round at India Open 2023. Axelsen defied the Indian crowd's full-throttled support for Srikanth, and player's own brilliant comeback in the second game to secure a passage to pre-quarters at the KD Jadhav Indoor Hall on Wednesday. With the win, Axelsen remains undefeated in the year so far; he had earlier defeated Japan's star sensation Kodai Naraoka in straight games to win the Malaysia Open title.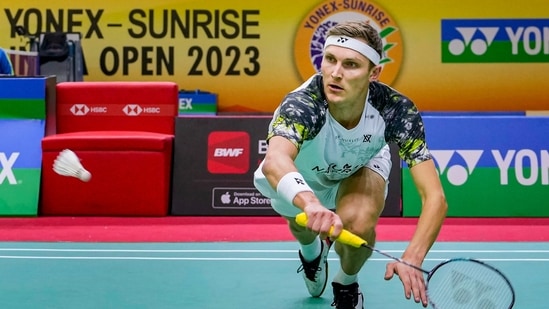 The crowds had started to fill the seats in advance for the blockbuster tie on Day 2 of the tournament, with other top shuttlers Lee Zii Jia and Anthony Ginting also finding many admirers in their respective matches just before Srikanth was scheduled to play Axelsen. As soon as the Danish World No.1 emerged from the player's lounge, the arena burst into applause and the cheering continued for Srikanth, who sent the crowd into frenzy when he took the first point of the match with a thundering smash down the left.
Viktor soon took charge, however, producing an exhibition in playing out some stunning drop shots and racing to an 11-8 lead at the mid-game break. Srikanth could take six points for the remainder of the game but had a significantly long chat during the mid-match break with his coach, Mohammed Siyadath Ullah.
Following the change of ends, Srikanth made an attacking start and sprung into a 5-1 lead with growing chants of 'Bharat Mata ki Jai' and 'Vande Mataram' from the fans. He went to mid-game break with a healthy seven-point advantage, and didn't let the intensity slip after resumption to lead 14-6.
Axelsen, however, made a blistering comeback with the Indian committing a series of unforced errors, allowing the Danish star inroads. Srikanth made a couple of net errors as Axelsen eventually drew parity at 18-18. He grabbed two match points in no time and showed brilliant precision to seal the tie soon after.
Srikanth a 'tricky opponent'
Following the game, Axelsen, making his first appearance at the India Open since 2019, said that he was "satisfied" with his performance. When Hindustan Times asked if the slowness of shuttle and the overall conditions at the court were hard to adapt, Axelsen stated that it does get difficult.
"Actually, I don't think the shuttles are super slow here. They are a little bit slow. Coming from a hot and humid country like Malaysia to here, where it is very cold, is hard to adapt. I'm just trying to settle in and I'm really happy I have won in straight games here. Srikanth is a tricky opponent, so I'm satisfied overall," Axelsen told Hindustan Times.
Also read: 'Translating motivation into medals': Satwik-Chirag eye breaking into top-3 after stellar 2022
Axelsen also lauded Srikanth's comeback in the second game, admitting that it took him by 'surprise'.
"Can't believe I managed to win the match. I didn't feel good in the second game. Srikanth stepped up and he locked me in. Really surprising, that," said the Danish star. Axelsen, however, stated that he is still recovering from his outing at the Malaysia Open, that ended on January 15. "I haven't recovered from last week as well. It was a five-and-a-half-hour travel. Now, I have more hours for tomorrow, so I'm trying to recover in the best way possible," said the World No.1 player.
Important to cut down errors, says Srikanth
The 29-year-old India star said he performed well but the unforced errors cost him the game.
"I played really well. Just couldn't finish a few points. Even in the first game, when it was 14-16 or something, I just sent a few smashes out. Can't really do anything about it. Lot of positives to take from that game, though, but I still need to work a lot," said Srikanth in the mixed zone following the game.
Also read: 'Calendar really tough for players': Sindhu finds support from Marin as star shuttler endures shock India Open exit
"I think it's really important to cut down the errors. As far as the strategies are concerned, I should sit with my coach and understand what went wrong," he added.
Axelsen will take on Shi Yuqi in the second round of the India Open. The two-time India Open winner could potentially set up a quarterfinal against defending champion Lakshya Sen, who meets another Danish shuttler, Rasmus Genke in the second round.
Topics