Watch: Richarlison heckles Aaron Ramsdale, instigates fan who kicks Arsenal goalkeeper during Premier League derby
Jan 16, 2023 02:47 PM IST
Aaron Ramsdale was involved in an altercation with Richarlison followed by a fan kicking him during Arsenal's 2-0 Premier League win vs Tottenham.
Arsenal built on their stunning run in the Premier League, defeating Tottenham Hotspur 2-0, at the Tottenham Hotspur Stadium on Sunday in a thrilling North London derby match. The win also saw Arsenal complete their first league double over Tottenham for the first time since the 2013-14 campaign, with the Gunners winning away at Spurs for the first time since March 2014. Hugo Lloris scored an own goal in the 14th-minute to give Arsenal a 1-0 lead and then captain Martin Odegaard's long-range strike made it 2-0 in the 36th-minute.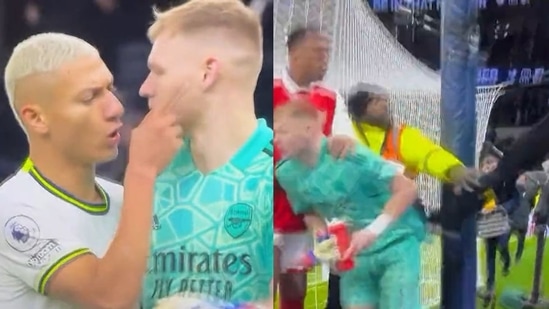 Also, Spurs have conceded 2+ goals in five consecutive home league games for the first time since August 1992, with the Lilywhites conceding 11 goals across these last five home fixtures. Despite the thrilling encounter, the match had an ugly end when a Spurs fan kicked Arsenal goalkeeper Aaron Ramsdale. This occurred after an altercation between the England international and Richarlison, followed by which a spectator kicked Ramsdale when he went to collect his water bottle in his goal.
Also Read | Classy Arsenal outgun Tottenham Hotspur to extend lead at the top
After the match, Ramsdale said, "The Spurs fans were giving me some throughout the second half and I gave them some back which, to the few people that I did do it too, was well greeted. Then a fan tried to jump over and give me a kick in the back. That's what happened and it's a shame because it's just a game of football at the end of the day. Both sets of players tried bringing me away. Thankfully nothing actually happened too drastically, but it's a sour taste. But I'm sure we'll enjoy it when we go back in."
Here is a video of the incident:
After the win, Arsenal are eight points ahead of second-placed Manchester City in the standings, with their biggest lead in the competition when playing the same number of matches as the side below since the final day of the 2003-04 season, when they won the title by 11 points.