Less time to build stadium was a challenge: Dilip Tirkey
Jan 15, 2023 10:47 PM IST
Former India skipper, who took over as Hockey India president in September, talks about putting together the World Cup in his home state in four months.
From being the first player from Odisha to represent the senior India team to witnessing the 2023 World Cup action in his home district, Hockey India (HI) president Dilip Tirkey is a very busy but content man.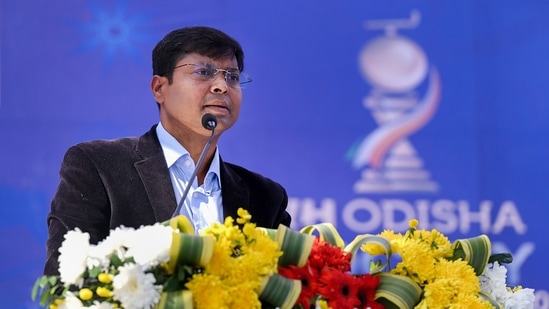 After being elected as the federation's first player-president last September, the former India captain had a huge task on hand with less than four months to go for the 15th edition of the quadrennial event that for the first time is being held at two venues – Bhubaneswar and Rourkela.
In an interview, the 45-year-old discussed, among other things, challenges faced in hosting the World Cup, return of the Hockey India League (HIL), and centres apart from Odisha hosting global hockey events.
Excerpts:
We are two days into the World Cup. What have been the challenges?
Hosting has not been a challenge. Odisha is used to hosting world-level tournaments for a long time. What was challenging was that there was very less time for construction of the stadium, to arrange the accommodation of players and officials, developing the airport. After announcing that both Bhubaneswar and Rourkela will stage the World Cup, we lost two years due to Covid. So, the work got tougher. The tendering and ordering processes all stopped. That was a challenge. We've been able to do everything in a very short span of time. If you had come four months back, you'd have seen what the condition was. Finally, it is in this shape and looks beautiful. So, the first couple of days have been very good. The matches were exciting to watch. More than 21,000 people saw India's match at the stadium. For non-India matches, 15,000-17,000 people have been pouring in.
Rourkela is not well connected by air. What efforts were made to arrange flights for teams and officials to travel between the two cities?
The Odisha government under Chief Minister Naveen Patnaik ji has worked passionately and was deeply involved in developing hockey. The state government and HI worked together in trying to give hockey a new direction, a new image, and that is happening. Two venues almost mean hosting two World Cups. Man power, expenses, efforts – everything doubles. Flights and aircraft shuttles were arranged for teams travelling between the two cities. This was a new experience altogether. We used to see in cricket World Cups that one match was in Sri Lanka, the next in India. The Odisha government arranged chartered flights and many other facilities, from beautification of the city to hockey awareness discussions, roads, transport, accommodation, airport, etc.
You belong to Sundergarh and grew up in this area. How does it feel to see the World Cup in your own district?
This is neither for me nor Odisha, it is for the entire country. We are very happy that the World Cup is happening in Sundergarh, which is crazy about hockey. What can make me happier... it is taking place in Rourkela, in front of my home. A lot of change has come in hockey today; development, infrastructure, tournaments, coaching programmes. On behalf of HI, I am also grateful to the international federation (FIH) for showing interest to hold it here.
Have you found a slot in the FIH calendar to host HIL?
We are all talking about it. We are in the process. Meetings have been held. The pathway is being discussed – how to make it better, how to sustain it long term. We are getting positive responses. We have asked for a slot, FIH is working on it. Whenever we get that, we will announce.
All global hockey events coming to India are held in Odisha. Will we see other centres also hosting?
We are looking at it. World class infrastructure is very important to host such events. We are welcoming more cities and states to show an interest in holding these events. Odisha has two synthetic turfs, at the Kalinga Stadium and Birsa Munda Hockey Stadium, for world hockey. They have infrastructure and facilities like nowhere else. We welcome states who have good facilities to host. So far, no request has come. When it does, we will definitely think about it.
Topics