Latest from sharmila tagore
Actor Sara Ali Khan, gushing about her grandmother Sharmila Tagore, has said that she sometimes finds it 'weird' that they are related.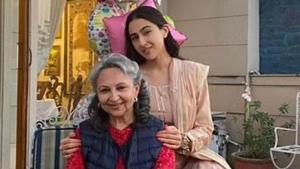 Updated on Jan 08, 2021 06:14 PM IST
Kareena Kapoor Khan has shared an old picture of a teenage Saif Ali Khan, posing with his father, Mansoor Ali Khan Pataudi. Check it out.

Updated on Jan 05, 2021 03:25 PM IST
Anushka Sharma has talked about the core values that she wants her child to have. The actor says that she will teach her child to be respectful towards everyone.

Updated on Dec 31, 2020 07:11 AM IST
Saba Ali Khan has shared a collage of Sara Ali Khan and Amrita Singh's photos. The collage shows just how much they look alike. See it here.

Updated on Dec 11, 2020 02:11 PM IST
Actor Sara Ali Khan took to social media to wish her grandmother, Sharmila Tagore, on her 76th birthday. See their pictures here.

Updated on Dec 09, 2020 10:37 AM IST