According to the report, Delhi's air pollution, ranked at number 4 globally, increased almost 15 per cent over the previous year.

IQAir study found that air quality in China continued to improve last year as more than half of its cities saw lower levels of air pollution when compared to the previous year.

Bengaluru's air quality index dropped to the unhealthy category for the second day this week, reaching 156 on Tuesday, the highest it has been since at least Feb. 13: IQAir
Delhi logged an average AQI of 225 throughout February, cleaner than previous low of 241 recorded in February 2020, records maintained by the pollution watchdog showed.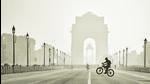 January 2022 saw only one "severe" air day as against six such days last January, two in January 2020, and seven in January 2019. No severe days have been recorded in February so far.