Latest from bhagavad gita
Several BJP-ruled states have announced the introduction of the Bhagavad Gita in the school educational curriculum. Recently, the Himachal Pradesh government said Gita will be taught to all students from Classes 9 to 12. Gujarat, Karnataka and Haryana have also made similar announcements.

Written by Ishika Yadav | Edited by Aniruddha Dhar
On Thursday, the Gujarat government announced that the 700-verse Hindu scripture will now be a part of the syllabus for classes 6-12 from the academic year 2022-23.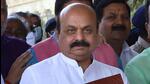 The Gujarat government on Thursday announced in the Assembly that the Bhagavad Gita will be a part of the school syllabus for Classes 6 to 12 across the state from the academic year 2022-23.
Written by Kanishka Singharia | Edited by Aryan Prakash
The Delhi minister welcomed the move but took a swipe at the Gujarat leaders saying they also should practice the values of Gita first.

Written by Sharmita Kar | Edited by Chandrashekar Srinivasan
, New Delhi
Though he backed the Gujarat government's move, the minister said that in Karnataka, the scripture will be included in school syllabus only after approval from experts. Both states have BJP governments.