Stakeholders — business firms, social and political organisations, and hoteliers — unanimously refused renaming Lansdowne.

Published on Sep 12, 2023 12:58 PM IST
Gen Rawat along with his wife Madhulika Rawat and 12 other military personnel lost their lives in the chopper crash on December 8, 2021, while he was on his way to Wellington to deliver a speech.

Published on Dec 05, 2022 02:13 PM IST
The Kibithu military camp, which looks out over Chinese deployments in the Rima-Tatu area across the LAC, was renamed General Bipin Rawat Military Garrison, as was the 22-km road stretch linking this base to Walong where outnumbered Indian soldiers halted the Chinese war machine in 1962.

Updated on Sep 10, 2022 10:56 PM IST
Yesterday Army Chief General MM Naravane announced the setting up of a 'Chair of Excellence' in memory of Gen Rawat at the United Service Institution of India (USI).

Published on Mar 16, 2022 05:46 PM IST
Army chief General Manoj Mukund Naravane, who is officiating as chairman, chiefs of staff committee (COSC), made the announcement at a ceremony organised at South Block. It was attended by the vice chiefs of the three services and other senior officers.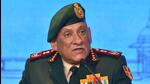 Updated on Mar 16, 2022 02:03 AM IST