[
civil aviation ministry
]
Latest from civil aviation ministry
The ministry of civil aviation tweeted this morning to say waiting time at boarding and entry gate checkpoints had decreased, and that movement of passengers through the airport had become smoother.

Updated on Dec 14, 2022 02:06 PM IST
The airline, backed by ace investor Rakesh Jhunjhunwala and aviation veterans Aditya Ghosh and Vinay Dube, received its air operator certificate from the Directorate General of Civil Aviation on July 7

Updated on Aug 08, 2022 01:03 AM IST
Jyotiraditya Scindia helped a college student get her luggage delivered to the hostel after she had a horrible experience on an IndiGo flight.

Published on Jul 05, 2022 07:41 PM IST
Written by Kanishka Singharia | Edited by Sohini Goswami
The Ministry of Civil Aviation (MoCA), in April this year, released the first provisional list of 14 beneficiaries under the PLI scheme for drone and drone components. The first list of PLI beneficiaries is expected to be released by June 30.

Updated on May 28, 2022 01:56 AM IST
The Indian civil aviation industry has also bounced back from the Covid-19 pandemic-induced crisis, slowly but surely, with a lot of latent demand coming to the fore, civil aviation minister Jyotiraditya Scindia told HT.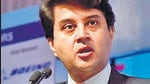 Updated on May 02, 2022 05:25 AM IST