Latest from disabilities act
The admission process in DU has been delayed by over three months this year in view of the Covid-19 pandemic. Last year, the first cutoff list was announced on June 28

Published on Sep 26, 2020 10:13 AM IST
Hindustan Times, New Delhi |
By
HT Correspondent | Edited by Zara Khan
Persons with disabilities face additional challenges. The State must do more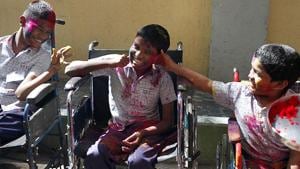 Published on Apr 08, 2020 07:23 PM IST
In a filing Thursday in Brooklyn federal court, Yaroslav Suris sued Pornhub, Redtube and YouPorn and their Canadian parent company MindGeek, arguing they violated an anti-discrimination law called the Americans with Disabilities Act.

Updated on Jan 18, 2020 07:46 AM IST
New York |
By
Agence France-Presse
This initiative is mandatory under the Rights of Persons with Disabilities Act, 2016, but it was caught up in a tussle over who would be the "competent authority" to approve the notification – the elected Aam Aadmi Party government or Lieutenant Governor Anil Baijal.

Published on Sep 02, 2019 06:09 AM IST
Hindustan Times, New Delhi |
By
Abhishek Dey
Under the Rights for Persons with Disabilities Act, workplaces are required to register their EOPs with the concerned commissioner for persons with disabilities and notify them after approval.

Updated on Aug 17, 2019 01:57 AM IST
Hindustan Times, New Delhi |
By
Abhishek Dey