Latest from farooq abdullah
Here are today's top news, analysis, and opinion at 5pm. Know all about the latest news and other news updates from Hindustan Times.

The former Jammu and Kashmir chief minister said he took the decision as the Union territory, according to him, was passing through a 'critical juncture.'

Sharad Pawar said he is happy to continue his service for the wellbeing of the common man and declined the offer of the opposition parties to be a candidate for the elections of the President of India.

The Lok Sabha MP from Srinagar was questioned for about three hours, an official said, declining to be named.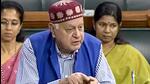 The case pertains to alleged financial irregularities worth
₹
113 crore in the Jammu and Kashmir Cricket Association (JKCA) when Farooq Abdullah was the president between 2006 and 2012.