Latest from greater noida
Three FIRs have been registered against Aman Chopra, including in Bundi, Alwar and Dungarpur districts, under various sections pertaining to sedition, outraging religious sentiments and promoting enmity between two groups and under the IT Act on April 23.

Around 12.15 pm Thursday, an emergency call was made on the 112 number from the Knowledge Park area of Greater Noida and the police were alerted about a child being kidnapped by an unidentified person in a white-coloured car, a police spokesperson said.

In the first incident, a man died and four others were injured when a speeding car hit them while they were crossing the road near the Ryan roundabout in the Beta 2 area on Saturday.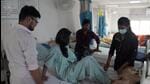 Narain wanted it to have better infrastructure than Noida, and one of his concerns, as he set about planning the brand new city, was to find a nomenclature for its neighbourhoods that would suit a futuristic city.
The officials said after the formation of Greater Noida in 1991, the sectors were named Alpha, Beta, Gamma, Delta, Omicron, Mu, Zu, Chai-Fi, Pai etc while 1, 2 and 3 were added to these names.