Police said that they were ascertaining allegations of women students that the accused also shot their videos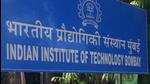 Updated on Sep 20, 2022 05:08 PM IST
Need to make educational institutes future ready; IITs pride of nation: President Murmu

Updated on Sep 03, 2022 06:55 PM IST
Alia Bhatt is promoting Brahmastra these days and was glad to head to IIT Bombay for the promotions. She was proud to be able to go to IIT even it was for just one hour.

Published on Aug 28, 2022 07:54 AM IST
IIT Madras Placements 2021-22: Indian Institute of Technology Madras (IIT Madras) has recorded the highest ever number of job offers received during campus placements in an academic year.

Published on Aug 08, 2022 05:41 PM IST
UQIDAR (The University of Queensland & IIT-Delhi Academy of Research), are celebrating the milestone of enrolling its 100th student in the academy in July 2022.

Updated on Aug 04, 2022 03:13 PM IST