The three services are expected to submit comprehensive reports on theaterisation and join structures soon.

CHAFF is a critical defence technology used to protect fighter aircrafts or naval ships from enemy radar-guided missile during war. The significance of this technology lies in the fact that very less quantity of CHAFF material deployed in the air acts as a decoy to deflect enemy's missiles to ensure safety of the fighter aircraft or naval ships.

Even though the DRDO has developed the CHAFF system to tackle incoming anti-ship missiles, the sinking of Moskva by Ukrainian cruise missile poses questions on survivability of large warships.

Kalvari-class diesel-electric attack submarines have been constructed with technology transfer from French firm Naval Group under a
₹
23,562-crore programme called Project 75, and four of them have already been commissioned into the navy. A fifth submarine, Vagir, is currently undergoing sea trials.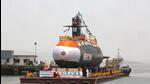 Four submarines of the ongoing Project-75 Scorpene programme are already commissioned into the Navy.