Shubham Dixit, 28, is a resident of Jhansi. He was arrested from Lohamandi in Indore on Sunday.

Written by Shubhangi Gupta | Edited by Swati Bhasin
, New Delhi
The fire in the Indore building claimed seven lives and injured nine others on Saturday. Police arrested the accused on Saturday night from Lohamandi.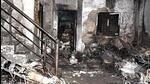 TusharPrajapati, who hails from Dewas and works with a share-broking firm in Indore, lived in his friend's flat in the building. But as luck would have it, he and a few of his friends were sleeping on the terrace on Friday night, and thus they were not trapped inside

Indore Fire: The fire broke in the early hours on Saturday, officials said.

The video of the policemen at a police station in Indore gifting a bike to a delivery man was posted on Twitter.