Latest from jharkhand mukti morcha
Governor Ramesh Bais returned the Bill back to the government for reconsideration, underlining that the government needs to review the legality of the bill and frame it as per the constitutional norms and court rulings.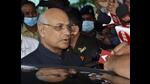 Published on Jan 29, 2023 10:03 PM IST
The top court has sets aside HC order which upheld maintainability of plea for probe against him in mining lease case

Updated on Nov 07, 2022 02:47 PM IST
Jharkhand BJP chief Deepak Prakash said that it is "evident" the entire scam of illegal mining is "worth a thousand of crores".

Updated on Nov 02, 2022 03:46 PM IST
Jharkhand Congress chief Rajesh Thakur alleged that the Centre was working to destabilise governments in non-BJP states.


Updated on Nov 02, 2022 02:08 PM IST
Jharkhand chief minister Hemant Soren is faced with uncertainty over his continuance as chief minister following a petition by the BJP seeking his disqualification as an MLA in an office-of-profit case.

Published on Sep 08, 2022 10:54 AM IST