Madhya Pradesh Congress chief Kamal Nath's resignation as the leader of the opposition in the state assembly on Thursday comes on the heels of an incident last month.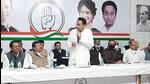 Party functionaries familiar with the matter said Nath had sent in his resignation earlier in the day.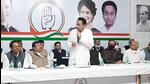 Govind Singh has been appointed as the new leader of the Madhya Pradesh Congress legislature party, AICC general secretary KC Venugopal said in a statement.

Written by Sharangee Dutta | Edited by Chandrashekar Srinivasan
, New Delhi
Kamal Nath said cow and its urine have their own uses but the economy will improve only when investment comes in and financial activities increase.

The Madhya Pradesh bypoll results were a setback for Congress as it only managed to win the Raigaon seat by defeating the ruling BJP in the constituency but lost two seats of Jobat and Prithvipur to the saffron party.

Written by Sharangee Dutta | Edited by Poulomi Ghosh
, Hindustan Times, New Delhi