Following the violence in 1987, area resident Yakoob Ali had got a case lodged against 93 people at the TP Nagar police station.

Updated on Apr 02, 2023 08:14 PM IST
At 11.45am, his young sons Yash and Tarun brought out Lal's body for the final journey, accompanied by their mother Yashoda, dressed in a bright red sari. The crowd roared – the savage killing had galvanised the city in grief and anger – and some young men raised communal slogans of revenge.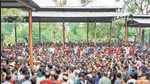 Updated on Jun 30, 2022 01:41 PM IST
On June 17, eleven days before Mohammad Riyaz Akhtari was to hack 47-year-old Kanhaiya Lal to death and proudly take responsibility for the killing in a viral video, he had warned that he would do just that. And urged others to follow his lead once he committed the first murder.

Updated on Jun 29, 2022 01:18 AM IST