Latest from maha vikas aghadi
Madhya Pradesh chief minister Shivraj Singh Chouhan was in Jabalpur to campaign for urban body elections.

Karnataka, Madhya Pradesh, Goa, Uttarakhand, Arunachal, Manipur, Meghalaya and then Maharashtra – Congress said people's mandate is being bulldozed again and again.

Devendra Fadnavis also had to claw his way back into the central leadership's favour and he proved his political chops when he ensured the BJP returned to power in Goa in the face of massive anti-incumbency.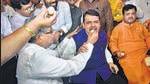 "Haste can lead to undesirable consequences," said the Supreme Court, while asking all parties to file counter affidavits within five days. Shinde camp gets three days to respond to counter affidavits.

By
HT News Desk
| Reported by Utkarsh Anand | Written by Aryan Prakash
Aaditya Thackeray, who is the first member from his family to win an election, has been attacking the rebels, just like his father. With the Brihanmumbai Municipal Corporation (BMC) elections just round the corner, Aaditya Thackeray and his Yuva Sena office are expected to play a bigger role.