[
national green tribunal
]
Latest from national green tribunal
In the complaint, Akash Vashishtha, who is an environmental activist and lawyer, said fresh constructions are being undertaken at these two locations, for which trees are being felled. The ecology of the southern ridge is deteriorating due to these encroachments, states the complaint.

A bench headed by NGT Chairperson Justice A K Goel said violation of environmental norms in the handling of plastics is resulting in serious adverse health effects on human beings.

Until the plan is prepared, however, the EMPs submitted by the Haryana and Delhi governments will be enforced, said a bench headed by NGT chairperson justice Adarsh Kumar Goel, directing the two states to also submit action taken reports on the enforcement of their respective EMPs by July 31, 2022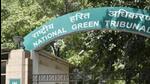 The upcoming six-lane Delhi-Dehradun Economic Corridor will reduce the travel time from 6 hours to 2.5 hours.

The state government has allowed the use of green crackers in other parts of Punjab for a very short period during festivals like Diwali, Gurupurab, Christmas and New Year Eve.