The high court has sought the Centre's stand on a Muslim woman's plea seeking regulation of the practice of bigamy or polygamy which is allowed under Muslim law (Shariat) .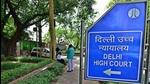 Published on May 03, 2022 12:11 AM IST
The Delhi high court asked the ministries of law, women and child development and minority affairs to share their stand on the issue.


Published on May 02, 2022 06:06 PM IST
The government document has said that the legislation that regulates marriages in South Africa is not based on the provisions of the Constitution of the country.


Published on Jun 29, 2021 03:55 PM IST
With an eye on 2022 elections, President Emmanuel Macron has championed the bill which seeks to tighten rules on issues ranging from religious teaching, online hate to polygamy.


Published on Feb 16, 2021 11:06 AM IST