Latest from property rights
The article has been authored by Priyanka Khimani, founder, Khimani & Associates.

Published on Aug 11, 2022 01:28 PM IST
The high court passed an interim order in favour of HT Media and HT Digital Streams Ltd. by restraining the rogue website from using the domain name www.hindustantimes.tech or any other domain name, consisting of the word 'HINDUSTAN TIMES' or is deceptively similar to the mark of the group.
Published on May 26, 2022 08:11 PM IST
Till December 3, the DDA has received 90,700 applications of which approximately 21,000 were rejected as the applicants were found to be ineligible and 11,500 were given ownership documents.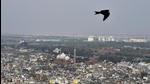 Published on Dec 13, 2021 12:21 AM IST
By
Risha Chitlangia
, Hindustan Times, New Delhi