Engineers are working round the clock to complete laying of raft above the temple's foundation by January 21. Thereafter, plinth will be laid and it is expected to be completed by the end of March.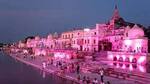 "Almost every household in the country has donated something to Ram Mandir Trust," said Priyanka Gandhi while addressing reporters on Thursday. "A door-to-door campaign was held too. It is a matter of devotion and that is being toyed with.

Written by Joydeep Bose | Edited by Amit Chaturvedi
, Hindustan Times, New Delhi
Uttar Pradesh deputy CM Keshav Prasad Maurya again said that while a Ram temple is being constructed in Ayodhya and work is underway on the Kashi Vishwanath corridor project in Varanasi, wait is on for a temple at Krishna Janmabhoomi in Mathura.

The design will be inspired by Konark's Sun Temple, which is an example where the sun rays reach inside the temple.

The ground floor of the Ram Mandir, where the sanctum sanctorum will be located and where an idol of Ram Lalla will be placed, will be ready for prayers by December 2023.