Sao Paulo's state government press office said a fine — equivalent to about $110 — would be imposed for violation of a rule that has required masks in public places since May 2020.

Published on Jun 13, 2021 02:05 AM IST
The two neighbouring countries in South America, Brazil and Argentina, are taking very different steps at the moment. While Buenos Aires is embracing the nightlife again, Sao Paulo and Rio de Janeiro have announced tighter restrictions.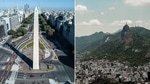 Updated on Mar 07, 2021 08:03 AM IST