Latest from sherlock holmes
A Sherlock Holmes or a Hercule Poirot appeared larger than life revealing the secrets at the end of the story, which they knew from the beginning but had kept close to their chests, just to let the audience have a dose of cliff-hanging suspense

Updated on Jun 13, 2023 11:55 PM IST
This week we're excited about desi Sherlock, on a 007 vacay, rethinking sandwiches and are done with AI

Updated on Apr 08, 2023 12:16 AM IST
Do you remember the addresses of Bilbo Baggins, Harry Potter, Sherlock Holmes or Mary Poppins? A tour of literary addresses, from Privet Drive to Baker Street.


Updated on Dec 25, 2021 03:22 PM IST
The Supreme Court judge quoted Sherlock Holmes when advocate Pijush Kanti Roy, who has been appointed amicus in the matter, said that during the night of the murder, all the four witnesses could not have seen the face of the petitioner as it was dark.


Updated on Jul 06, 2021 07:37 PM IST
Arthur Conan Doyle was drawn to investigate just one real-life crime during his lifetime and it involved a British Indian man wrongly accused of a series of mysterious crimes in an English village in the early 20th century.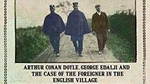 Published on Feb 28, 2021 10:27 AM IST