The much-needed rains, which weather experts say may have broken the hold of the successive heatwaves Delhi has seen since March, also came after an extended dry spell. And they proved another axiom about the Capital right: it doesn't matter how delayed the pre-monsoon showers are, Delhi will still not be prepared for them.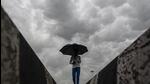 Emergency personnel suspended the search for survivors around Baybay City, in the central province of Leyte, in the late afternoon as it was "too dangerous" to continue in the dark, said Marissa Miguel Cano, public information officer for the city government.
Hundreds of flights were cancelled at Dallas-Fort Worth International Airport as Texas, Oklahoma, Missouri and Arkansas braced for an ice storm. Meanwhile, heavy snow was expected in upstate New York and New England later this week

Nearly 1 million homes lost power in November when a storm hit northeast England and eastern Scotland.
Train operators in Britain urged people not to travel, with trees still blocking several lines after most of the network was shut down when Eunice brought the strongest wind gust ever recorded in England -- 122 miles (196 kilometres) per hour.