Portugal's minister for parliamentary affairs Ana Catarina Mendes said that a new type of visa has been created, the work-seeker visa, which allows entry into Portuguese territory of foreign nationals looking to work for up to 180 days.

Reuters | | Posted by Zarafshan Shiraz
, Lisbon
Many students in China are unable to sit for the in-person, pen-and-paper tests given once a year in May because of the government's "zero-Covid" lockdowns meant to curb the spread of the coronavirus. Many schools in US, Europe and Asia demand AP scores for admission

District basic education officer (BSA) Laxmi Kant Pandey identified the accused as contactual teachers Manorama Mishra and Goldi Katiyar and said the duo had received orders to take up posts at schools in the Palia and Ramiya Behar blocks on Thursday.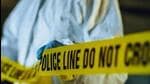 A group of parents said the future of their wards is at stake as they had to leave their studies due to unavoidable circumstances.

Pariksha Pe Charcha 2022: Urging parents and teachers not to force their 'unfulfilled dreams' upon their children, Prime Minister Narendra Modi on Friday advised them to let students follow their dreams.